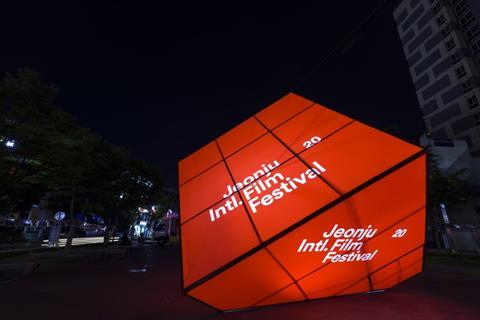 South Korea's Jeonju International Film Festival (Jeonju IFF) has announced that its previously postponed 21st edition will be held without a public audience, centred on competition screenings for jury members and filmmakers, due to concerns over the Covid-19 coronavirus.
The festival announced on March 11 that it was pushing back its 21st edition from its originally scheduled April 30-May 9 slot to May 28-June 6 in the interest of public health and safety.
Festival director Lee Joondong yesterday sent out an apologetic open letter saying organisers had looked into various different methods of dealing with the ongoing coronavirus situation. "But as quarantine authorities are in a state of extreme tension in the face of the upcoming long holiday in May, the Jeonju International Film Festival has also had to think about the best way not to put a burden on the safety of the public," he said.
The holidays Lee is referring to are Buddha's Birthday on April 30, Labour Day on May 1, followed by the weekend, and although Monday (May 4) is not an official holiday, some people are taking the day off work because Tuesday (May 5) is again a national holiday, Children's Day.
South Korea has not been on enforced lockdown, but the population has been voluntarily following social distancing and self-isolation advisories, in tandem with the government's widespread testing, contact tracing and quarantining of confirmed cases.
Infection numbers have been lowered to around ten new confirmed cases per day for several days now and the government is looking at re-opening schools in May. But it is also on the alert for a potential second wave of infections after the long holiday.
Jeonju IFF is planning to hold screenings for the International Competition and Korean Competition sections, with only the relevant filmmakers and jury members in attendance.
The project market's pitching sessions will be held exclusively online.
The festival will also hold online screenings for films with consent from rights holders and is planning to hold smaller curated programmes for local audiences at a later date.
Speaking to Screen, Jeonju programmer Moon Seok said: "The situation could get better after the long holiday, and if so, we could have a continuation of small film festivals like the Falling In Jeonju festival we normally have annually in the autumn, curated from the year's main festival selection with films that might appeal to local audiences. It would be at the Jeonju Cine Complex and we might have another cinema or two, and potentially have weekend guest visit Q&As."
He added that the festival is still in discussions with filmmakers and jury members to confirm their participation in this new improvised format. But overseas filmmakers will not be attending for the International Competition titles. (South Korea currently mandates all foreign nationals to go into two-week quarantine upon arrival.)
Details have yet to be ironed out for the online screenings, but they will likely be only for domestic IP address-holding viewers because of rights issues.
On March 30, the festival announced 11 titles for its Korean Competition for first and second-time feature directors. Six of these are directed by female filmmakers and Moon noted then that, "This seems to be a reflection of the fact that Korean society and the film industry are gradually riding the wind of change after the Me Too movement. Even in the films directed by male filmmakers, there were many female protagonists and themes about women."
The festival's previously announced Quay Brothers: Masters of Puppet Animation retrospective and exhibition – with films such as Street Of Crocodiles, The Doll's Breath and Christopher Nolan's 2015 documentary Quay on the twin filmmakers – is now up in the air but likely to transition into one of the smaller festivals at the Jeonju Cine Complex as online screenings are not possible.
South Korea's festival circuit
Among other South Korean festivals, Bucheon International Fantastic Film Festival (BIFAN), which is still scheduled for July 9-16, is exploring the possibility of taking place without any overseas guests and is planning several online sessions, according to Thomas Nam, NAFF managing director/BIFAN Programmer.
Busan International Film Festival (BIFF) has cancelled its Asian Cinema Fund (ACF) support programme for the year as post-production support normally requires filmmakers to fly in to Korea to finish work and production support would also be difficult with current social distancing and isolation measures.
BIFF is otherwise carrying on with preparations to hold its 25th edition October 7-16, but organisers are keeping an eye on developments in South Korea and around the world to adjust to potential variables.