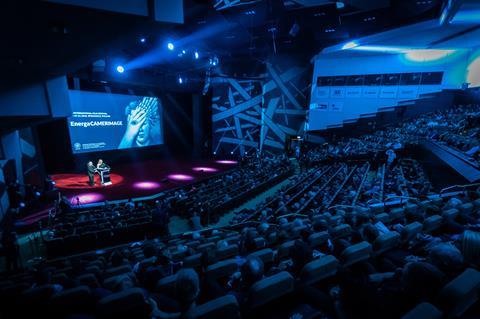 The Fortress cinematographer Ji-yong Kim won the Golden Frog in main competition at Camerimage, the international film festival for the art of cinematography.
Scroll down for full list of winners
The 26th edition was held in Bydgoszcz, Poland from November 10 - 17.
The Fortress, directed by Dong-hyuk Hwang, tells the story of the second Manchu invasion of Korea in 1636. Ji-yong Kim was also awarded the best cinematographer award at this year's Asian Film Awards.
Polish cinematographer Lukasz Zal won the Silver Frog for Pawel Pawlikowski's black-and-white drama Cold War, Poland's official foreign language Oscar entry.
The Bronze Frog went to Alfonso Cuaron, who was writer, director and cinematographer for Netflix's ROMA, shot on large format digital 65mm. Cuaron took over lensing duties after Emmanuel Lubezki became unavailable.
Now in its second year, the Camerimage Fipresci award for director of the best film in the main competition went to Mike Leigh for Peterloo. Cinematographer Dick Pope accepted the award.
Also in its second year, the audience award went to Yorgos Lanthimos' dark comedy The Favourite. Irish cinematographer Robbie Ryan shot the film. He has previously won the festival's music video award for Paolo Nutini's Iron Sky.
Earlier in the festival's opening ceremony, honourary awards were handed out to Polish DoP Witold Sobocinski, with surprise guest Roman Polanski on hand to give the award to his lifelong friend. Sobocinski's work includes Polanski's Frantic, The Gateway Of Europe, O-Bi, O-Ba – The End of Civilisation and The Promised Land.
Carol Littleton, wife of Academy president John Bailey, was also honoured for her editing work on films such as E.T., The Big Chill, The Manchurian Candidate and Silverado.
The best TV pilot award went to James Friend for Patrick Melrose: Bad News. Previewing on Sky Atlantic in the UK in May, the drama is directed by Edward Berger and stars Benedict Cumberbatch.
The event wrapped with festival director Marek Zydowicz saying the week had been "difficult, with all kinds of crisis situations," and thanking everyone who had helped him.
He was in part referring to A Star is Born cinematographer Matthew Libatique, who was detained on Tuesday November 13 after allegedly assaulting both a paramedic and policeman.
Zydowicz also announced that Bydgoszcz has cut the festival's funding by 25 percent, leaving next year's location uncertain. The festival has taken place in the city since 2010.
The full list of winners are below:
Man competition
Golden Frog
The Fortress, cin. Ji-yong Kim, dir. Dong-hyuk Hwang
Silver Frog
Cold War, cin. Łukasz Żal, dir. Paweł Pawlikowski
Bronze Frog
Roma, cin. Alfonso Cuarón, dir. Alfonso Cuarón
Fipresci Award
Peterloo, cin. Dick Pope, dir. Mike Leigh
Audience Award
The Favourite, cin. Robbie Ryan, dir. Yorgos Lanthimos
Best Polish Film
Nina, cin. Tomasz Naumiuk, dir. Olga Chajdas
Honorary awards
Lifetime Achievement Award
Witold Sobocinski
Cinematographer-Director Duo
cin. Jean-Marie Dreujou, dir. Jean-Jacques Annaud
Editing
Carol Littleton
Music Videos
cin: Julien Temple
Student Etudes Competition
Golden Tadpole
Sirene, Cin. Douwe Hennink, Dir. Zara Dwinger, School: Nederlandse Filmacademie - Netherlands Film Academy (Ahk)
Silver Tadpole
Almost Everything, Cin. Simon Bitterli, Dir. Lisa Gertsch, School: Zürcher Hochschule Der Künste - Zurich University Of The Arts (Zhdk)
Bronze Tadpole
Them, cin. Holger Jungnickel, Dir. Tim Dünschede, School: Deutsche Film- Und Fernsehakademie Berlin - German Film And Television Academy (Dffb), Hochschule Für Fernsehen Und Film München - University Of Television And Film Munich (Hff München), Filmakademie Baden-Württemberg Gmbh
Documentary Features Competition
Golden Frog - Best Documentary Feature
When The Bull Cried, cin. Karen Vázquez Guadarrama, dir. Bart Goossesn, Karen Vázquez Guadarrama
Golden Frog - Best Docudrama
I, Dolours, cin. Kate Mccullough, dir. Maurice Sweeney
Documentary Shorts Competition
Golden Frog - Grand Prix
Horse Riders, cin. Tomasz Wolski, dir. Anna Gawlita
Special Mention
Pain Is Mine, cin. Farshid Akhlaghi, dir. Farshid Akhlaghi
Directors' Debuts Competition
Best Director's Debut
The Guilty, cin. Jasper J. Spanning, dir. Gustav Möller
Cinematographers' Debuts Competition
Best Cinematographer's Debut
Obey, cin. Albert Salas, dir. Jamie Jones
Music Videos Competition
Best Music Video
Novo Amor Birthplace, cin. Nihal Friedel, dir. Jorik Dozy, Sil Van Der Woerd
Best Cinematography In A Music Video
Childish Gambino This Is America, cin. Larkin Seiple, dir. Hiro Murai
First Look - TV Pilots Competition
Best TV Pilot
Patrick Melrose: Bad News, cin. James Friend, dir. Edward Berger