The US-China co-production blew away the competition, but Chinese New Year titles are waiting in the wings.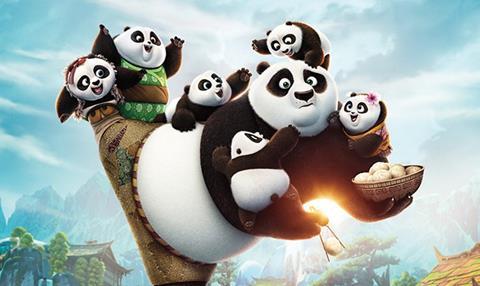 Kung Fu Panda 3 opened top at the box office in China - and even bigger than in the US - but may not stay top for long as a trio of high-profile Chinese New Year offerings are poised to take over.
With no real competition in the week before Chinese New Year, Kung Fu Panda 3 easily took the weekly box office crown in China for the period Jan 25-31. The official US-China co-production, between DreamWorks Animation and its local joint venture partners at Oriental DreamWorks, debuted with a solid $52.22 from its three-day opening weekend and earned $58.21m including previews, representing almost 60% of last week's box office.
After ruling the charts for three weeks, Star Wars: The Force Awakens was pushed to a distant second place with $7.88m, lifting its total to $123.69m after 23 days in China.
Local animation Boonie Bears III dropped to third place with $6.28m for $39.71m after 16 days.
A third animation in the chart was Fox's Alvin And The Chipmunks: The Road Chip which debuted in fifth with $5.69m from its six-day opening.
New release Vincent Zhou's Lost In The Pacific opened in eighth with $3.27m from its first three days. The English-language 3D sci-fi adventure stars Superman Returns actor Brandon Routh and Chinese actress Zhang Yuqi.
Vincent Kok's House Of Wolves entered the weekly chart for the first time in tenth place with $1.96m for $3.18m after nine days. The Hong Kong comedy stars Francis Ng and Ronald Cheng as a pair of bad guys who have a change of heart.
Robert Zemeckis' The Walk moved up to the fourth place from fifth with $5.75m for $12.57m after 10 days. It was followed by local action-comedy Detective Chin Tang which took $4.87m for $124.66m after 32 days; action film The Last Witch Hunter made $4.84m for $25.89m after 17 days; and local crime-thriller Inside Or Outside placed ninth place with $2.17m for $6.14m after 10 days.
Kung Fu Panda 3 is expected to continue its dominance this week as Beijing Blues director Gao Qunshu's The New Year's Eve Of Old Lee, which opened yesterday, is the only other major release.
But competition will intensify sharply when three eagerly-awaited Chinese New Year offerings hit cinemas on Feb 8. These include Stephen Chow's The Mermaid, Andrew Lau and Wong Jing's From Vegas To Macau III and Cheang Poi-Soi's The Monkey King 2.