The historical drama triumphed with six awards, while Oscar-nominated A War had to settle for one.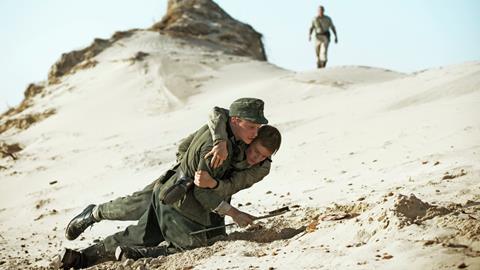 Scroll down for full list of winners
Martin Zandvliet's Land Of Mine triumphed at the 2016 Danish Film Awards, scooping six prizes including Best Film.
The historical war drama, which premiered in the 2015 Toronto International Film Festival's Platform section, also took home Best Director, Best Original Screenplay, Best Cinematography, Best Editing and the Blockbuster Audience Award.
The night's other major awards were split between several titles.
Tobias Lindholm's Oscar-nominated modern war-drama A War took the Best Actress prize for star Tuva Novotny, while Ulrich Thomsen won Best Actor, his third, for his performance in Kasper Barfoed's football comedy Summer Of '92.
The supporting awards went to Trine Dyrholm for Long Story Short and Nicolas Bro for Men & Chicken.
Kenneth Kainz's children's adventure film The Shamer's Daughter was another big winner on the night, taking five prizes: Best Children & Youth Film, Best Adapted Screenplay, Best Costume Design, Best Score and Best VFX.
The night's Best Documentary prize went to Peter Anthony for The Man Who Saved The World while drama series The Legacy dominated the television awards.
The annual awards are voted for by the Danish Film Academy, which was founded in 1982 and is comprised of more than 2000 members.
Full list of winners
Best Feature Film
Land of Mine
Nordisk Film Production, Producer: Mikael Rieks, Dir. Martin Zandvliet
Best Children & Youth Film
The Shamer's Daughter
Nepenthe Film, Producer: Nina Lyng & Eva Juel Hammerich, Dir. Kenneth Kainz
Best Director
Martin Zandvliet - Land of Mine
Best Original Screenplay
Martin Zandvliet - Land of Mine
Best Adapted Screenplay
Anders Thomas Jensen - The Shamer's Daughter
Best Actor
Ulrich Thomsen - Summer of '92
Best Actress
Tuva Novotny - A War
Best Supporting Actor
Nicolas Bro - Men & Chicken
Best Supporting Actress
Trine Dyrholm - Long Story Short
Best Set Design
Mia Stensgaard - Men & Chicken
Best Cinematographer
Camilla Hjelm Knudsen - Land of Mine
Best Costume Design
Kicki Ilander - The Shamer's Daughter
Best Make up
Anne Cathrine Sauerberg, Morten Jacobsen & Thomas Foldberg - Men & Chicken
Best Editing
Per Sandholt & Molly Malene Stensgaard - Land of Mine
Best Sound Design
Peter Albrechtsen - The Idealist
Best Score
Jeppe Kaas - The Shamer's Daughter
Best Original Song
'Svæver over byen' - Wafande, Andreas Keilgaard & Søren Schou - Iqbal & den hemmelige opskrift
Best Visual Effects
Martin Madsen & Morten Jacobsen - The Shamer's Daughter
Best Short Film: Documentary
Home Sweet Home
Good Company Pictures, Producer: Katrine A. Sahlstrøm, Dir.: Katrine Philip
Best Documentary
The Man Who Saved the World
Statement Film ApS, Producer: Jakob Staberg, Dir.: Peter Anthony
Best TV Series
The Legacy II
DR Fiktion, Producer: Karoline Leth, writer: Maya Ilsøe, Dir.: Jesper Christensen
Best Short TV-series
Ditte og Louise
DR Fiktion, Producer: Piv Bernth, writer: Ditte Hansen & Louise Mieritz, Dir.: Niclas Bendixen
Best Actor - TV-series
Carsten Bjørnlund - The Legacy II
Best Actress - TV-series
Trine Dyrholm - The Legacy II
Best Supporting Actor - TV-series
Jesper Christensen - The Legacy II
Best Supporting Actress - TV-series
Lene Maria Christensen - The Legacy II
Best American Film
Birdman - Instr.: Alejandro González Iñárritu, Distr.: Filmcompagniet/Fox
Best Foreign Film
Mommy - Instr.: Xavier Dolan, Distr.: Camera Film
Best Short Film: Fiction
Mommy - Good Company Films, Producer: Stinna Lassen, Instr. Milad Alami
Blockbuster Audience Award
Land of Mine
Nordisk Film Production, Producer: Mikael Rieks & Malte Grunert, Dir.: Martin Zandvliet