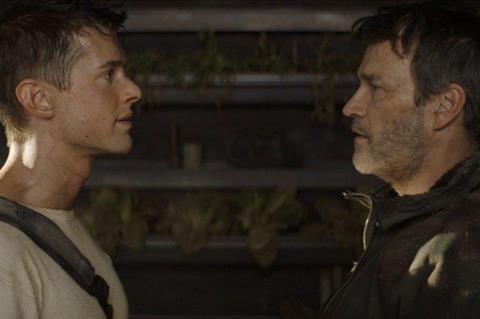 The world premiere of Drew Mylrea's US feature Last Survivors is among the programme for FrightFest Halloween (October 29-30), the October spin-off of the UK genre film festival held in August.
Last Survivors stars True Blood's Stephen Moyer, Clueless actor Alicia Silverstone and Pretty Little Liars actor Drew Van Acker in the story of a father and son, living off-grid for 20 years, who encounter an outsider who threatens to destroy the utopia they've built. US firm Vertical Entertainment handles international sales on the film, which shot in the US in 2020 and early 2021.
UK premieres at the event include alien horror The Seed, the directorial debut of Sam Walker, who was named a Screen UK & Ireland Star of Tomorrow in the initial cohort in 2004. The Seed will open the event on Friday, October 29, with director, cast and SFX creature designer Dan Martin in attendance.
Further UK premieres include Eskil Vogt's The Innocents, about a group of pre-adolescent children who discover dark and mysterious psychic powers when left to their own devices. The Innocents premiered in Un Certain Regard at Cannes in July; Protagonist Pictures handles world sales rights, with Signature Entertainment taking the film for UK-Ireland earlier this month.
Amulet, the feature directorial debut of UK actor Romola Garai, will also have its UK premiere at FrightFest Halloween, having first screened at Sundance 2020. Garai will attend the event to discuss the film, which follows a homeless soldier who finds something sinister going on at the decaying house where he is offered shelter.
FrightFest 2021 lineup
The Seed (UK) dir. Sam Walker – UK premiere
Barbarians (UK) dir. Charles Dorfman – UK premiere
The Possessed (Australia) dir. Chris Sun – UK premiere
Pennywise: The Story Of It (UK-US) dirs. John Campopiano, Chris Griffiths – UK premiere
Last Survivors (US) dir. Drew Mylrea – world premiere
The Innocents (Nor-Fr-Swe-Can) dir. Eskil Vogt – UK premiere
Amulet (UK) dir. Romola Garai – UK premiere
Veneciafrenia (US-Sp) dir. Alex de la Iglesia – UK premiere
Miracle Valley (US) dir. Greg Sestero – international premiere