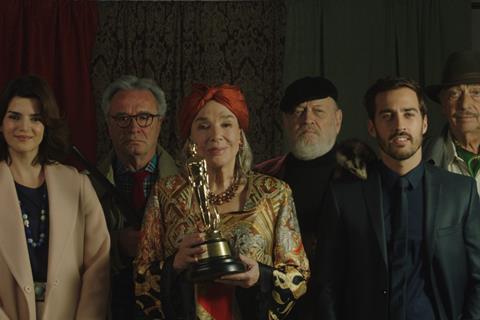 Madrid-based powerhouse Latido Films has struck a raft of key deals on its prestige EFM slate, led by further business on Argentine-Spain duo 4x4 and Oscar winner Juan Jose Campanella's The Weasels' Tale.
Mariano Cohn's thriller 4x4 (Argentina-Spain) was the talk of Ventana Sur in Buenos Aires in December and stars Juan Pedro Lanzani from Argentine smash The Clan as a petty crook who breaks into a car, only to discover he has been lured into a trap.
Latido has licensed rights to Russia (Cinema Prestige) and Hong Kong (Bravos) and is weighing up offers from the US, Germany, and Japan. At Ventana Sur, the company closed deals with France (UGC), among others. Buena Vista International will distribute in Argentina. Dady Brieva and Luis Brandoni also star.
The Weasels' Tale (Argentina-Spain) from Campanella (best foreign language Oscar winner in 2010 for The Secret In Their Eyes) has gone to Italia (Movies inspired), Portugal (Outsider), and Greece (Seven Films). The film is styled as a dark comedy in the vein of the Ealing Comedies, about a gaggle of filmmakers and actors who resist the efforts of a young couple to kick them out of their mansion. Oscar Martinez (The Distinguished Citizen), Graciela Borges, Clara Lago and Luis Brandoni star.
Latido chief Antonio Saura and head of international sales Juan Torres reported that Hari Sam's Mexican coming-of-age drama and recent Sundance world premiere This Is Not Berlin starring Xabiani Ponce de León has gone to Salzgeber for Germany.
Salvador Simó's animation Bunuel In The Labyrinth Of The Turtles (Spain-Netherlands) has landed at Draka for Italia, with offers in from Germany and Taiwan. The story takes place in 1930s Paris, as a penniless Luis Buñuel, in the early stages of what will become a celebrated career, tries to get a documentary off the ground after his controversial first feature, The Golden Age.
Javier Fesser's 2018 feelgood smash Champions has gone in Australia (Palace) and Hungary (Cirko), and an offer is in for former Yugoslavia. The recent Goya winner finished last year as the top local language release and centres on a basketball coach ordered by a court to work with a team of special needs players.
Sales on Carmen & Lola (Spain), Arantxa Echevarría's story about a romance between two Roma girls, have closed with Palace for Australia, and Profun for Germany. Latido is in ongoing talks for Italy.
Latido has licensed French remake rights to Kinovista for Gastón Duprat's My Masterpiece (Spain-Argentina), his narrative follow-up to The Distinguished Citizen, about a scheming unscrupulous art dealer starring Guillermo Francella and Luis Brandoni. The sales team is weighing up an offer from Australia.
Rodrigo Sorogoyen's thriller The Realm (Spain-France) has gone to Kino Mediteran in former Yugoslavia and Activers in South Korea. The film premiered in Toronto last year and Latido licensed rights to the UK (Signature), Rialto (Australia) and is talks in China.
José Luis López Linares' olive oil documentary Virgin & Extra has gone to Palace for Australia.