StudioCanal's biopic posts biggest ever September opening at the UK box office and distributor's biggest ever debut.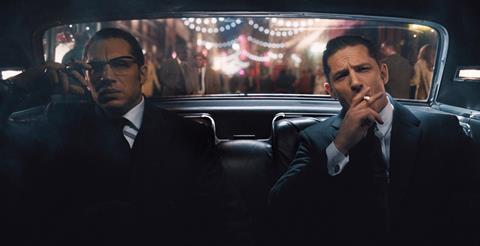 STUDIOCANAL
First they ruled London and now the Krays are ruling the UK box office as Legend posted a stunning record-breaking debut.
StudioCanal's biopic took a confirmed $8.01m (£5.19m) from its 522 sites, including $2.3m (£1.49m) in previews, to dethrone Straight Outta Compton.
It is worth noting that even without previews, its Fri-Sun tally of $5.7m (£3.7m) would have seen it land the top spot.
The debut marks the biggest ever September opening at the UK box office and the biggest British 18 certificate opening, as well as being the third biggest bow for an 18 certificate film of all time behind Fifty Shades of Grey and Hannibal.
From the distributor's widest ever release, Legend also achieved StudioCanal's best-ever UK opening ahead of Paddington's $8m (£5.18m) from 518 sites. However, Paddington's bow was without previews, so it remains the distributor's biggest Fri-Sun tally.
With strong reviews, Legend could be set for a healthy run at the UK box office and will aim to at least top Trainspotting's $19.2m (£12.43m) as the biggest ever British 18 certificate film of all time.
FOX
As a result of Legend's big opening, Maze Runner: The Scorch Trials had to settle for second on its UK bow.
Fox's sequel unlocked a healthy non-final $4.3m (£2.77m), including around $541,000 (£350,000) in previews, from its 522 sites. That's up on its predecessor's $3.2m (£2.04m) debut from 491 sites, including $173,000 (£112,078) in previews.
The Scorch Trials will hope to also improve on The Maze Runner's final tally of $13.7m (£8.89m) in the weeks to come.
Also for Fox, Secret Cinema's production of The Empire Strikes Back is up to $8.5m (£5.51m) as it enters the final weeks of its run, while Me and Earl and the Dying Girl added a preliminary $160,000 (£103,492) for $1.1m (£730,039) to date.
Paper Towns and Hitman: Agent 47 have grossed $6.5m (£4.23m) and $3.3m (£2.1m), respectively.
UNIVERSAL
The Visit moved into third spot at the UK box office after scaring up $1.6m (£1.03m), including $324,000 (£209,482) in previews, from its 413 sites through Universal.
In terms of M. Night Shyamalan's outings, that ranks as one of the lowest UK bows for the director, only ahead of Lady in the Water's $699,000 (£452,744) from 287 sites.
The Sixth Sense technically opened with $398,000 (£257,479) from nine sites, but its first weekend of saturation release saw it grab $7.4m (£4.79m) from 430 sites.
Also for Universal, Straight Outta Compton fell over 50% with a $971,000 (£628,321) third weekend for a strong $11m (£7.1m), and should still end its run as director F. Gary Gray's best-ever UK result.
Minions is up to a superb $71.3m (£46.16m) and will likely fall just short of Despicable Me 2's $73.1m (£47.3m) result.
DISNEY
With a drop of just 17% in its eighth weekend, Inside Out rounded off this week's top five with $939,000 (£608,000).
Disney's critically acclaimed animation is up to an impressive $56.9m (£36.8m) as it attempts to track down Finding Nemo ($57.9m/£37.5m) and Monsters Inc ($58.6m/£37.9m) to become the second biggest original animation of all time at the UK box office.
PARAMOUNT
Having hit £20m last week, Paramount's Mission: Impossible - Rogue Nation added an extra $462,000 (£300,000) for $31.6m (£20.5m).
SONY
Falling a slim 31% in its fifth weekend, Sony's Pixels gobbled up a further $433,000 (£280,000) for $12.2m (£7.92m) to date.
Also for Sony, Ricki and the Flash unsurprisingly fell heavily on its way to a $62,000 (£40,000) second weekend for a ten-day tally of $664,000 (£430,000).
EONE
Dropping 58% in its second weekend was eOne's No Escape with $391,000 (£254,000) for $1.8m (£1.2m) after ten days in play.
Also for eOne, La Famille Belier posted a UK debut of $12,000 (£8,000) from its two sites.
WARNER BROS
Ranking as one of the lowest recent UK debuts for Woody Allen, Warner Bros' Irrational Man landed with a somewhat soft $303,000 (£192,000) from its 162 sites, including $17,000 (£11,000) in previews.
That's ahead of To Rome with Love's $218,000 (£141,008) from 107 sites, but behind the $424,000 (£273,998) bow of Allen's previous effort, Magic in the Moonlight, from 178 sites.
Also for Warner Bros, The Man from U.N.C.L.E. is up to $9.6m (£6.2m) following a $202,000 (£131,000) fifth weekend.
CURZON ARTIFICIAL EYE
Having become the first-ever day-and-date release to hit £1m, Curzon Artificial Eye's 45 Years grossed an extra non-final $204,000 (£132,276) for a terrific $1.9m (£1.23m) to date.
ENTERTAINMENT
Falling almost 70% in its second weekend, Entertainment's American Ultra mustered up $140,000 (£90,673) for a ten-day tally of $980,000 (£636,456).
ICON FILM DISTRIBUTION
Suffering in its second weekend, Icon Film Distribution's The Transporter Refuelled added just $106,000 (£68,712) for $944,000 (£611,077) and looks set to end its run as the lowest grossing Transporter outing of the series.
UPCOMING RELEASES
This week sees saturation releases for Universal's Everest (following IMAX and PLF previews since Sept 11) and Vertigo Releasing's Bill.
eOne's A Walk in the Woods receives a wide release, while Peccadillo Pictures' A Girl at My Door, Sony's The D Train and Axiom Films' Tangerines are among the films receiving a limited release.