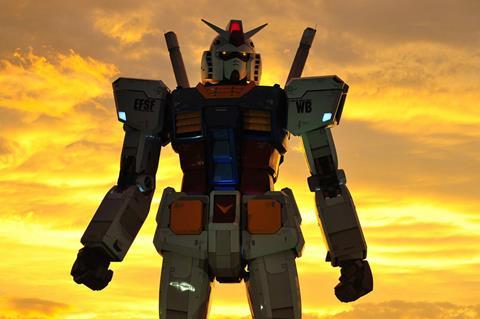 Legendary and Tokyo-based studio Sunrise announced at Anime Expo 2018 on Thursday (July 5) they are to co-produce the first live-action feature version culled from the sci-fi Gundam property.
The property is based on Sunrise's popular Mecha anime and sci-fi franchise created in 1979, which has spawned a multi-platform universe encompassing anime TV and features, manga, video games, plastic models, toys, and novels among other media.
According to the parties, Gundam dominates toy licensee and corporate stablemate Bandai Namco's earnings almost 40 years after inception.
The story for the live-action version of Gundam is being kept under wraps, however the original Gundam series takes place in the Universal Century when humanity's booming population is forced people to emigrate to space colonies.
Eventually, the people living in the colonies seek autonomy and launch a war of independence against the people living on Earth.
Cale Boyter will oversee for Legendary with the Sunrise creative team.
Wanda-owned Legendary currently has three films in various phases of production including July 13 release Skyscraper; Godzilla: King Of The Monsters in post; and live-action Detective Pikachu, which is also in post. Godzilla Vs. Kong is in pre-production.