The comedian takes aim at Ofcom and CDN's Diamond.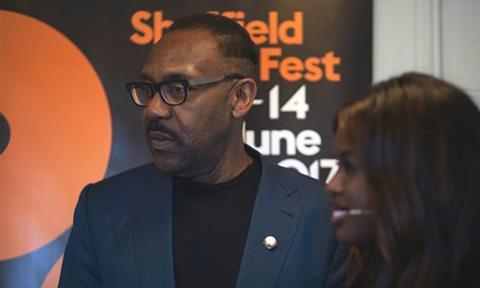 Lenny Henry has slammed diversity monitoring scheme Diamond and Ofcom for not going far enough in their attempts to increase BAME representation (writes Broadcast).
Speaking at Sheffield Doc/Fest on Sunday (11 June), the actor-comedian took a swipe at the TV industry's lack of progress around diversity.
He said that as part of Creative Diversity Network's Diamond scheme, broadcasters should be forced to publish data on a programme-by-programme basis rather than an anonymised snapshot.
Henry's comments echoed the criticism levelled at the scheme, which is due to publish its first year results in August, by Bectu and the Writers' Guild of Great Britain (WGGB).
"It is like they are deliberately not implementing it because people don't want to do it. It's such a simple thing to do," said Henry. "We'll never know [the diversity of the crew] making these shows."
Henry, who was interviewed by June Sarpong, also took aim at regulator Ofcom over its role overseeing the BBC.
While the BBC will be required to improve the level of its on-screen diversity and Ofcom has suggested that it publishes an annual dedicated report, it will not regulate the diversity of its workforce.
"If the pickers and deciders are always of the dominant culture it's going to be very difficult to affect change," he added.
Last November, Ofcom launched its Diversity in Broadcasting initiative, which tracks diversity data across broadcasters. Chief executive Sharon White said that the monitoring programme would "hold broadcasters to account".
Take it to the streets
Elsewhere, in the hour-long discussion, Henry discussed his beginnings as a stand-up comedian on 1970s talent show New Faces to his acting roles in Shakespearean productions, and work in documentary, including in Sky Arts' 2015 three-parter Lenny Henry's Got The Blues.
In April, his Endemol Shine-backed indie Douglas Road picked up the rights to Kit de Waal's debut novel My Name is Leon.
Henry urged aspiring creators to "take it to the streets" and to take control of their work.
"Don't wait to be told to do something. Learn the craft, but go out and shoot as soon as you can," he said. "Don't be scared to steal, and show and share your work. Form a gang – stickiness is good."
Comic Relief
Henry, who co-founded Red Nose Day charity Comic Relief with Richard Curtis in 1985, said the organisation is taking a "positive step forward" to include documentaries from "indigenous groups" in the countries supported by the charity.
"The days are changing where it's not just going to be a white person at the front saying, 'Isn't it terrible? Look at the starving African people,'" he said, adding that new Comic Relief chief executive and former Betty founder Liz Warner was supporting the new direction.
"We're moving beyond that now to a stage where indigenous crew are being part of the storytelling narrative. They're telling their own stories."