A total of 21 projects will be presented at the development and financing platform.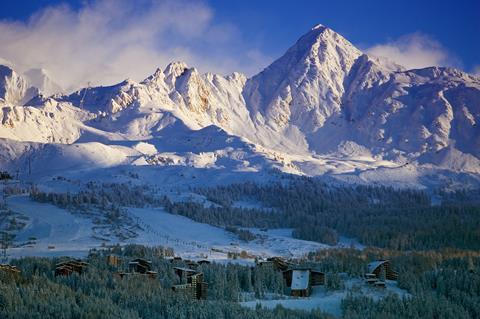 Caroline Deruas, Jonathan Nossiter and David Verbeek will be among the directors presenting their upcoming projects at the eighth edition of the Les Arcs Coproduction Village (Dec 10-13).
A total of 24 projects will presented at the three-day event unfolding within the Les Arcs European Film Festival (10-17) which announced the bulk of its programme last week.
Verbeek will present his long-gestating vampire project Dead & Beautiful.
Jonathan Nossiter will be at the market with The Last Words, his big screen adaptation of France-based Argentine writer Santiago Amigorena's novel Mes derniers mots revolving around the last two members of the human race as they contemplate a world destroyed by mankind.
Deruas will present her second feature Sad Liza after Daydreams which premiered at the Locarno Film Festival over the summer.
Two animation projects have also made it into this year's selection, Dutch experimental animator Rosto's Mind My Gap and A Childhood of Martha Jane Canary, about the youth of Calamity Jane, which is the latest feature-length animation from Rémi Chayé after Long Way North.
A final project, selected under a partnership with the Torino Film Lab, will announced on November 25, following the Torino Film Festival awards ceremony.
LES ARCS COPRODUCTION VILLAGE PROJECTS
Anatolian Leopard directed by Emre Kayis, produced by Tato Film (Turkey)
Aunts Project directed by Andrea Staka, Kim Longinotto, Mirjana Karanovic, Sejla Kameric, produced by Wake Up Films (Russia), Agitprop (Bulgaria), Alva Films (Czech Republic)
A Childhood of Martha Jane Canary directed by Rémi Chayé, produced by Sacrebleu (France), Maybe Movies (France)
Dead & Beautiful directed by David Verbeek, produced by Lemming Film (Netherlands) / XStream Pictures Limited (China)
The Dream Girl directed by Maurizio Braucci, produced by MIR Cinematographica (Italy) / Ubar Filmes (Portugal)
The Father Who Moved Mountains directed by Daniel Sandu, produced by Mobra Films (Romania)
(F)light directed by Wouter Bouvijn, produced by Eyeworks Films (Belgium)
The Last Ones directed Veiko Ounpuu, produced by Homeless Bob (Estonia) / Bufo (Finland)
The Last Words directed by Jonathan Nossiter, produced by Les Films du Rat (France) / Paprika Films (France)
Magic City directed by Eva Ionesco, produced by Diligence Films (France)
Mind My Gap directed by Rosto, produced by Autour de Minuit (France) / Studio Rosto (Netherlands)
Minore directed by Konstantinos Koutsoliotas, produced by Inkas Film Productions (Greece)
Obiectiva Teodora directed by Szabolcs Hadju, produced by Filmworks Ltd (Hungary) / Latokep Ensemble (Hungary) / Alphaville Production (Norwat) / Minds Meet (Belgium)
Oleg directed by Juris Kursietis produced by Tasse Films (Latvia), Alter Ego Pictures (Poland)
The Photograph directed by Lubomir Bakchev, produced by Les Films Velvet (France), Eagles Team Entertainment (France)
Sad Liza directed by Caroline Deruas, produced by Les Films de la Capitaine (France)
The Story Of My Wife directed by Ildik Enyedi, produced by Inforg-M&M Film (Hungary)
We Didn't Talk About The End directed by Mina Djukic, produced by Nemir Film (Serbia), Film House Bas Celik (Serbia)
QUEBEC PROJECTS AT CO-PRODUCTION VILLAGE
Forgetting Charlotte directed by Frederick Pelletier, produced by 1976 Productions (Quebec)
Mafia Inc directed by Daniel Grou, produced by Attraction Images (Quebec)