Les Arcs unveils 16 projects due to be presented in the work-in-progress selection.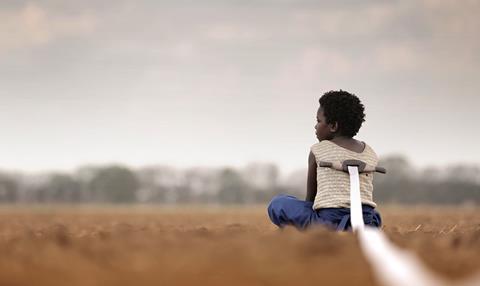 Upcoming films by the UK's Rungano Nyoni, the Czech Republic's Olmo Omerzu and Sweden's Johannes Nyholm are among 16 works-in-progress projects due to be presented at the eighth edition of the Les Arcs Coproduction village (Dec 10-13).
Footage from the films, which are all in post-production, will be shown on Dec 11. The festival's artistic director Frédéric Boyer made the selection.
British-Zambian director Rungano Nyoni will show first footage from her debut satire I Am Not A Witch [pictured top] about a nine-year-old girl who is a victim of a witch-hunt, which is shot by Embrace Of The Serpent's DoP David Gallego.
Nyholm will present his second feature Koko-di Koko-da - after The Giant which premiered at TIFF this year - revolving around a couple whose camping trip takes a strange turn when a circus troupe turns up.
Two awards will be presented at the event, the €50,000 Eurimages Lab Project Award, which recognises innovation (ten of the selected films are eligible), and the Hiventy Award, offering post-production services worth €10,000.
The jury will be made up of directors Bertrand Bonello and Clément Cogitore (Director), Venice Critics' Week programmer Beatrice Fiorentin, Helsinki International Film Festival chief and Sara Norberg and Karin Schockweiler, the Luxembourg representative of the Eurimages board committee.
Imperium added to co-pro line-up
Alongside the works-in-progress, another 21 projects in development will be presented in a separate financing and development event. Most of these were presented last week but a final project was also unveiled on Friday.
It is Jan Ole Gerster's Imperium, which was selected through a joint initiative with the Torino Film Lab.
The three-day Les Arcs Co-production Village runs within the framework of Les Arcs European Film Festival (10-17).
The work-in-progress line-up:
* indicates project is eligible for Eurimages award
All You Can Eat Buddha, dir. Ian Lagarde (Canada) produced by Voyelles Films (Canada)
Cemetery *, dir. Carlos Casas (Spain) produced by MAP Productions (France), Soda Film+Art (UK), Spectre Productions (France), Kimnes/Bersch (Poland), Film Island Productions (Sri Lanka)
Dog *, dir. Florin Serban (Romania) produced by Fantascope (Romania) and Harine Films (Poland)
Dovlatov, dir. Alexey German Jr (Russia) produced by SAGa and Metra Films (Russia)
Good Luck * (previously Gold Mine ), dir. Ben Russell (US) produced by KinoElektron (France) and CaSK Films (Germany)
I Am Not A Witch, dir. Rungano Nyoni produced by Soda Pictures (UK) and Clandestine Films (France)
In My Room *, dir. Ulrich Köhler (Germany) produced by Pandora Filmproduktion (Germany)
Koko-di Koko-da *, dir. by Johannes Nyholm (Sweden) produced by Johannes Nyholm Filmproduktion (Sweden) and BeoFilm (Denmark)
My Happy Family, dir. Nana Ekvtimishvili (Georgia) and Simon Gross (Germany) produced by Augenschein Filmproduktion (Germany) Arizona Productions (France) and Polare (Georgia)
The Elephant In A Dark Room *, dir. Konstantin Bojanov (Bulgaria) produced by Atlantida Studio (Bulgaria), Salty Sea (UK) and Seahorse Blue (UK)
The Gulf *, dir. Emre Yeksan (Turkey) produced by istos film (Turkey), Bir Film (Turkey), Kundschafter Films (Germany) and Homemade Films (Greece)
The Hidden City *, dir. Victor Moreno (Spain) produced by El Viaje Films (Spain) and Pomme Hurlante (France)
The Real Estate *, dir. Måns Månsson and Axel Petersén (Sweden) produced by Flybridge (Sweden)
Untitled, dir. Olmo Omerzu (Czech Republic) produced by endorfilm (Czech Republic), Cvinger Film (Slovenia), Punkchart Films (Slovakia) and Rouge International (France)
The Wildness, dir. by Guérin Van De Vorst (Belgium) produced by Wrong Men (Belgium) and ChevalDeuxTrois (France)
Yesterday *, dir. Balint Kenyeres (Hungary) produced by Mirage Film (Hungary), Les Films de l'Après Midi (France), Rotterdam Films (Netherlands), One Two Films (Germany), Chimney Pot (Sweden), Film Vast (Sweden) and La Prod (Morocco)