Taken star to present new thriller A Walk Among the Tombstones.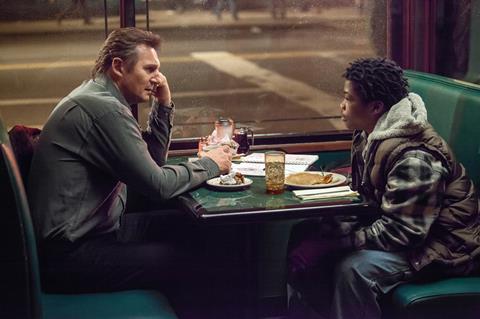 Oscar-nominated actor Liam Neeson is to present crime drama A Walk Among the Tombstones at this year's Zurich Film Festival (Sep 25 - Oct 5).
The film, written and directed by Scott Frank (Out of Sight), will screen as part of the festival's gala premieres strand on Oct 3 at the Cinema Corso.
Based on Lawrence Block's bestselling series of mystery novels, the films stars Neeson as Matt Scudder, an ex-NYPD cop who now works as an unlicensed private investigator operating just outside the law.
When Scudder reluctantly agrees to help a heroin trafficker (Dan Stevens) hunt down the men who kidnapped and brutally murdered his wife, the PI learns that this is not the first time these men have committed this sort of twisted crime. Scudder races to track them through the backstreets of New York City before they kill again.
The thriller also stars Sebastian Roché and is produced by Jersey Films' Danny DeVito, Double Feature Films' Michael Shamberg and Stacey Sher, Exclusive Media's Tobin Armbrust and Cross Creek Pictures' Brian Oliver.
A Walk Among the Tombstones will be released by Universal Pictures in the US on Sept 19. International sales are handled by Bloom.
Neeson received Oscar, Golden Globe and BAFTA nominations for his lead performance in Steven Spielberg's Schindler's List (1993).
He received a further Globes nomination for playing the title role in Neil Jordan's Michael Collins (1996). Other notable features include Husbands And Wives (1992), Nell (1994), Les Miserables (1998), the thriller Taken (2008) and Taken 2 (2012), and Third Person (2013).