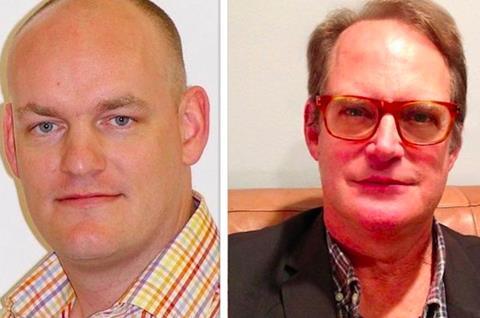 Lightning Entertainment has acquired international rights to the thriller Huntsville starring Dylan McDermott and Sophie Turner and musical drama Becks.
New head of sales Andrew Brown (pictured at left), who will work alongside head of acquisitions Bobby Rock (pictured at right), is gearing up to present the slate in Santa Monica next week.
Eric England directed Huntsville from a Black List screenplay by Anthony Rangone II about a troubled loner who befriends a high school student in a scandalous friendship that reveals a hidden darkness. Jack Kilmer also stars.
John Wunder and Luisa Iskin of Coalition Group produced alongside Waterstone Entertainment's Jeff Kalligheri and Traveling Picture Show Co.'s Kevin Matusow. A US deal is understood to be imminent.
"We are so proud of the job Eric and our team did bringing Anthony's phenomenal script to life," Iskin and Wunder said. "The wonderfully engaging performances from Sophie and Dylan provide for a truly unexpected story."
Rock added "Sophie reminds me of a young Kathleen Turner in Body Heat. Her mystery and power draw you right in."
Becks won best film at this year's Los Angeles Film Festival and is a musical drama co-directed by Elizabeth Rohrbaugh and Daniel Powell, who wrote the screenplay with Rebecca Drysdale. Blue Fox Entertainment distributes in the US.
The story centres on a New York-based musician who moves back in with her midwestern mother after a break-up with her girlfriend. As she reacquaints herself with the place of her birth, an unexpected relationship begins to take shape. Lena Hall and Dan Fogler star alongside Mena Suvari, Christine Lahti, and Hayley Kiyoko, while Alex Bach, Daniel Powell, and Elizabeth Rohrbaugh served as producers.
Powell and Rohrbaugh said: "We couldn't be happier to have Lightning overseeing international sales for Becks. Even though the movie is a love letter to our hometown of St. Louis, we feel that the characters and the music have a universal appeal and we look forward to getting our film in front of a wide audience overseas."
"Becks is one of the most realistic and tense mother-daughter portraits I've seen," Rock said. "It's communicated by the directors with a deft touch."
Andrew Brown was most recently a co-founder at 4Squarefilms Ltd and helped launch Winchester Films, and co-founded Intandem Films. He also worked with Stephen Woolley and Elizabeth Karlsen at Number 9 Films.