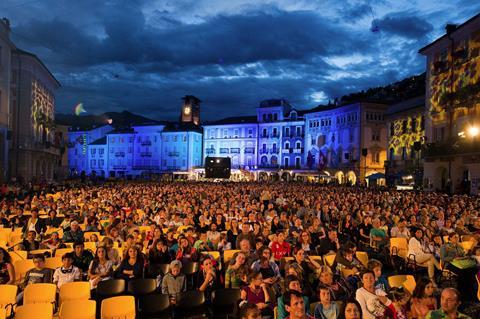 The Locarno Film Festival's industry office Locarno Pro has unveiled a new initiative, bannered U30, aimed at fostering exchange between film professionals under the age of 30 around key issues facing the cinema industry and strategies for the future.
The inaugural edition, running August 9-11, at the same time as other Locarno Pro events, will explore the theme of "The Audience of The Future".
Discussions will take place across four sessions tackling the theatrical experience, the relationship between theatrical distribution and the platforms, connecting with audiences and the role of festival and markets.
The 24 attendees are mainly drawn from the Locarno Industry Academy International's various initiatives in Europe, Latin America, the Middle East and the US, with additional participants scouted out of Africa and Asia.
The two criteria for selection were to be aged under 30 and working in the film industry as sales agents, distributors, programmers, exhibitors or in marketing and public relations.
UK-based participants will include Curzon Artificial Eye theatrical marketing executive Edward Frost, MUBI senior acquisitions manager Kevin Chan and Lionsgate international sales assistant Sofia Eleftheriades.
The diverse group also includes Shapath Das, the Kolkata-based director of the Arthouse Asia Film Festival; Ahmed Sobky, head of sales, acquisitions and distribution at Cairo based independent theatre and distribution label Zawya and Sarah Corrigan, senior assistant at IFC Films in the US.
Locarno Pro chief Nadia Dresti and Marcello Paolillo, who is overseeing the initiative, say the programme has been tailor-made for a new generation of film professionals who will shape the film industry of the future.
"This initiative raises a number of questions, but the most urgent is: do young people have to follow the business models developed by the film industry, or should not rather the film industry, both Hollywood and the rest of the world, be adapting to the countless ways in which audiovisual content can be consumed today?," says Dresti.
Paolillo explains that the theme of "The Audience of the Future" was conceived on the basis of responses to a survey sent out to all the participants.
"All the replies we received were extremely interesting… [and] all had one thing in common: the need for independent cinema to find new strategies and a new approach in order to reach its audience."
The full list of participants:
Kevin Chan, senior acquisitions manager, MUBI (UK)
Ajandok Gyenis, theatrical distributor, Mozinet (Hungary)
Océane Portal, head of international operations, Under the Milky Way (France)
Tanja Weibel, head of hospitality and accreditations, project manager Cinetour, Solothurn Film Festival (Switzerland)
Sofia Eleftheriades, international sales assistant, Lionsgate (UK)
Bohdan Zhuk, programme coordinator, Kyiv International Film Festival Molodist (Ukraine)
Julia Schubiger, Friborg International Film Festival, short film programmer (Switzerland)
Ahmed Sobky, head of sales, acquisitions and theatrical distribution, Zaywa Cinema and Distribution (Egypt)
Amin Osama, cinema club coordinator, Qus Baladna Cinema Club (Egypt)
Catalina Ramirez Chavez, global sales manager, Gunpowder & Sky (US)
Sarah Corrigan, senior assistant to co-presidents, IFC Films (US)
Reinel Garcia, managing director, Doc & Rio Festivals (Brazil, Cuba)
Gabriel Milagres, independent sales and acquisition professional (Brazil)
Jazmin Monzon, programmer, Cinetren (Argentina)
Tomas Cortes-Rosselot, founder and producer, ANIMAL (Cine Animal S.A.) (Chile, Panama)
Alejandra Villalba Garcia, co-founder, co-director, Saløn de Belleza (Mexico)
Andres Jimenez Suarez, programmer assistant and distribution coordinator Cinemateca Distrital de Bogotá and Interior XIII (Colombia)
Elisa May, documentary, cinema and home entertainment distribution, digital business development (Germany)
Edward Frost, theatrical marketing executive, Curzon Artifical Eye (UK)
Harper Mitchell, director, founding partner Ctrl.Alt.Shift (South Africa)
Shapath Das, festival director, Arthouse Asia Film Festival (India)
Alejandra Vargas-Carballo, owner and executive producer, Noche Negra Producciones (Costa Rica)
Olivia Tay, programme executive, Singapore International Film Festival (Singapore)
Tianyi Jia, programming assistant manager, Broadway Cinematheque (China)