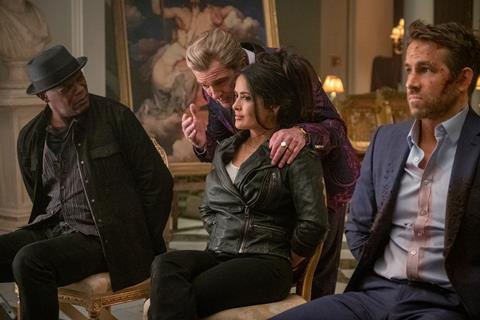 Lionsgate has set a June 16 US release for The Hitman's Wife's Bodyguard starring Ryan Reynolds, Samuel Jackson, Salma Hayek, and Antonio Banderas.
It is the latest addition to the calendar as US cinemas continue to reopen and studios and distributors date their slates.
On Monday president Biden said 90% of adults will be eligible to receive a vaccine within the next three weeks.
Warner Bros and Legendary's Godzilla Vs. Kong, which arrives in North America in cinemas and on HBO Max on Wednesday (March 31), scored the highest global opening for a Hollywood release since the onset of the pandemic, earning a confirmed $123.1m including $69.2m in China.
The Hitman's Wife's Bodyguard is the sequel to the 2017 action comedy The Hitman's Bodyguard sees Reynolds and Jackson reprise their roles as odd couple bodyguard Michael Bryce and hitman Darius Kincaid.
In the new instalment Kincaid and his wife, international con artist Sonia (Hayek) get in over their heads and encounter a powerful madman (Banderas) at the centre of a global plot. Morgan Freeman also stars.
Ron Schwartz, Lionsgate's president of worldwide distribution, made the announcement on Monday (March 29).
The Hitman's Wife's Bodyguard is a Millennium Media production. Patrick Hughes from a screenplay by Tom O'Connor and Phillip Murphy and Brandon Murphy based on a story by Tom O'Connor.
Producers are O'Toole, Les Weldon, and Yariv Lerner. Executive producers are Avi Lerner, Trevor Short, Boaz Davidson, Jeffrey Greenstein, Jonathan Yunger, Matthew Milam, Christa Campbell, Lati Grobman, Heidi Jo Markel, Zygi Kamasa, Peter Possne, and Mark Gill.
The 2017 original grossed $176m worldwide of which $101m came from international markets.