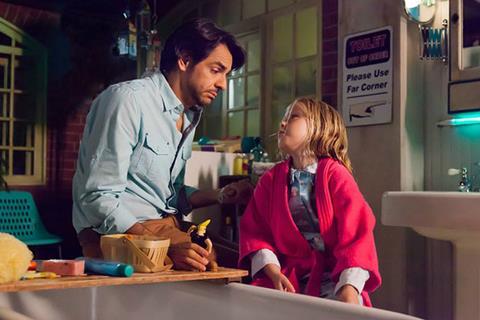 Lionsgate Television Group has signed Mexican star Eugenio Derbez and his producing partner Benjamin Odell's 3Pas Studios to a deal covering the production of English- and Spanish-language series.
3Pas, which already has a first-look feature deal with Lionsgate's Pantelion Films, will produce the series for the television group as well as for Lionsgate streaming platforms such as the recently launched Pantaya OTT service.
The deal follows the release last weekend of Pantelion and MGM comedy feature Overboard, which stars Derbez and Anna Faris and was produced by Derbez and Odell. The film, a remake of the 1980s Goldie Hawn comedy, opened with a strong $14.7m first-weekend gross at the North American box office.
Derbez also starred in and produced Pantelion's Instructions Not Included (pictured) and How to Be A Latin Lover.
Commenting on the deal, Lionsgate executive vice-president and head of worldwide scripted television Chris Selak said: "We're thrilled to expand our relationship with the incomparable comedic genius Eugenio Derbez and his 3Pas Studios into the television business. This multifaceted partnership is another example of working collaboratively across our divisions to identify premier brand name talent like Eugenio and Ben. We can't wait to see the exciting new projects they'll bring to our television slate."
Derbez and Odell added: "We're delighted to launch this new phase of our relationship with Lionsgate, a major Hollywood studio that embraces the creative vision of its artists and is committed to super-serve underserved audiences, including the growing acculturated Latino market. It's great working with Paul and his team at Pantelion, and we look forward to expanding that collaboration in order to supply Lionsgate's television business and streaming services with exciting, premium quality content for a diverse spectrum of audiences."
3Pas joins a Lionsgate TV talent roster that also includes Eric and Kim Tannenbaum, Courtney Kemp, Paul Feig, Ed Zwick and Marshall Herskovitz, Joel Silver and John Goldwyn.