Starting with a song could be an easy way to improve mental health in the office. That's the lesson from Lionsgate UK, which has started its own company choir, inspired by the on-screen camaraderie in its film Military Wives.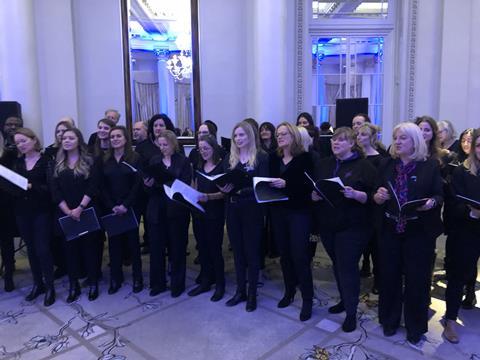 Nicola Pearcey, president of Lionsgate UK, has sung in choirs personally, and got the idea of a company choir as they started working on Military Wives (which launches in UK cinemas today).
She got the thumbs-up from Lionsgate UK CEO Zygi Kamasa and the choir first started rehearsing in November 2019. They now number 20-25 employees, ranging in seniority – and singing skills.
Their first performance took place at the Lionsgate Christmas party, when they surprised their colleagues with a rendition of the opening song from La La Land, 'Another Day Of Sun'.
Now the Lionsgate choir has also given a performance for the film's partners at an event at London's Langham hotel this week, in a joint choir session that paired Lionsgate with singers from financiers Ingenious, production/management company 42 and some of the famed military wives singers.
Pearcey hopes the choir can unite with other industry groups for a performance that would benefit charity. She would love to see an industry-wide choir and has already received encouraging feedback about the idea from Jon Wardle, director of the NFTS.
It's easy to imagine such a choir performing at the BIFAs or BAFTAs or other UK or international industry events. But just rehearsing with each other every Tuesday at 1pm has brought great benefits to the company, Pearcey noted.
Matt Smith, Lionsgate UK co-head of theatrical, looked joyous when he joined in this week's performance. "It's a wonderful thing to be involved with. After rehearsals, you feel more positive, you get this physical and psychological boost. And you also have a better working relationship across departments."
He added, "It also brought us closer to the film [Military Wives], and the themes of the film."
Kamasa isn't (yet) singing himself, but he has noticed company-wide benefits. "There is this huge camaraderie when they sing together. It brings different departments together. And it also takes away any form of hierarchy."
As a manager, Pearcey noted that Lionsgate UK has a "people first" strategy and that "if people are motivated and happy you get the best out of them." As well as stress relief benefits – "When you sing you forget about everything else" – she notes that she and her colleagues seem noticeably lighter after they spend an hour singing together.
Famed conductor Hilary Davan Wetton, who led the joint choir this week, said that singing in a choir can add two years to your life. Singing has been found to decrease levels of the stress hormone cortisol and increase levels of 'happy' hormones including oxytocin and serotonin.
Exhaling for longer than inhaling helps to calm the nervous system; singing improves circulation, and memory as new neural pathways are created; and heartbeats synchronise when a group sings together, which promotes a calming effect.
The charity OnSong, which promotes the benefits of group singing to support wellbeing, has worked with the Lionsgate choir (www.onsong.co.uk).
Peter Touche, senior investment director at Ingenious, sang with the joint group this week. "Working on the film for the past few years has been a great collaboration. So this is a culmination of the whole process."
Largest Lionsgate release
Military Wives launches today (March 6) in UK cinemas. Going out on 671 screens, it is Lionsgate UK's largest-ever release. "It's the kind of film we need right now," said Kamasa.
On the marketing side, Lionsgate UK worked with Amazon's retail arm, and its Treasure Truck service, to bring members of the military wives choirs to do "flash mob" style performances at train stations including London Waterloo, Birmingham and Manchester. At the February 24 premiere in London's Leicester Square, the military wives mixed choir also performed on the red carpet.
Partners on the film include Embankment Films, 42, Tempo Productions, Lionsgate UK, Ingenious and Twenty Twenty TV. Peter Cattaneo (The Full Monty) directs the story of a group of women whose loved ones are serving in the armed forces, who form a choir on the army base. Kristin Scott Thomas and Sharon Horgan lead the cast.
The fictional story is inspired by the hit BBC documentary series The Choir: Military Wives. That show's choirmaster Gareth Malone served as a consultant on the feature film.
Military Wives premiered at the 2019 Toronto International Film Festival, where Bleecker Street won a bidding war for US rights.
Embankment has also sold the film to a slew of international territories, including to Germany (Leonine), France (Pyramide), Canada (Level Film), Benelux (Imagine), Spain (A Contracorriente), Scandinavia (Scanbox), Japan (Kino), Australia/New Zealand (Transmission), Switzerland (Praesens), Italy (Eagle), Iceland (Sam Film), Poland (Best Film), Romania (Atelier De Film), Singapore (Shaw), worldwide airlines (Echo Lake), Greece (Spentzos), Portugal (NOS Lusomundo), South Africa (Filmfinity), Israel (United King), Middle East (Front Row), Hong Kong (Edko), Taiwan (Cai Chang), Thailand (Sahamongkol), Southeast Asia (Fox) and Latin America (California).