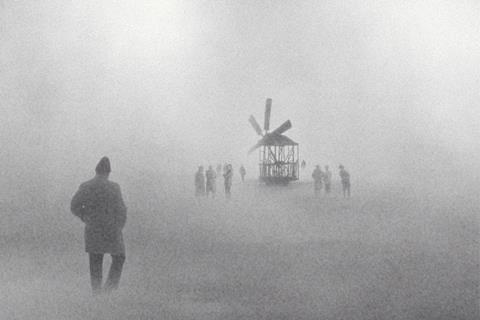 The Locarno Film Festival (August 3-13) has revealed the line-up for its 75th edition, which includes the world premiere of Russian filmmaker Aleksandr Sokurov's Fairytale.
The international competition will comprise 17 films, including 10 world premieres, which will vie for the coveted Golden Leopard awards.
Scroll down for full line-up
These titles include Fairytale, a Belgium-Russia co-production written and directed by Sokurov, whose films have played in Competition at Cannes five times with features including Russian Ark in 2002. His debut The Lonely Voice Of a Man received the Bronze Leopard in Locarno in 1987.
The competition line-up also includes Sermon To The Fish from Azerbaijan director Hilal Baydarov, whose In Between Dying played in competition at Venice 2020 and whose documentary When The Persimmons Grew won best documentary at Sarajevo in 2019.
Further premieres include Matter Out Of Place by Austria's Nikolaus Geyrhalter, whose documentary Erde won Berlin's Ecumenical Jury prize in 2019; and Rule 34 from Brazil's Julia Murat, whose 2017 feature Pendular won the Fipresci prize at Berlin in 2017.
The international competition jury will be presided over by Swiss producer Michel Merkt and includes directors Laura Samani, Prano Bailey-Bond and Alain Guiraudie, and producer William Horberg.
The festival's second main competition strand, Filmmakers of the Present, has world premieres of 15 first or second features by filmmakers from the US, Thailand, France and Ukraine among others.
In addition, this year's Piazza Grande open-air programme of 17 titles includes David Leitch's Bullet Train, starring Brad Pitt, which will open the festival on August 3 and Olivia Newman's Where The Crawdads Sing.
The festival will screen 226 features and shorts, from 113 countries, having received 4,245 submissions. Screenings at Locarno75 will all be physical events, held in Piazza Grande – holding an audience of up to 8,000 – and in the lakeside town's 13 theatres. It marks the second edition of the festival under artistic director Giona A. Nazzaro.
As previously announced, Locarno will hand out several honorary awards including lifetime achievement awards for Greek-French director Costa-Gavras and US actor Matt Dillon, a best independent producer award for US genre film producer Jason Blum and an honorary Golden Leopard to US indie director Kelly Reichardt.
Concorso internazionale 2022
Declaration (India)
Dir. Mahesh Narayanan
Sermon To The Fish (Azerbaijan-Mex-Switz-Turk)
Dir. Hilal Baydarov
Bowling Saturne (Fr-Bel)
Dir. Patricia Mazuy
De Noche Los Gatos Son Pardos (Switz)
Dir. Valentin Merz
Gigi La Legge (It-Fr-Bel)
Dir. Alessandro Comodin
Tales Of The Purple House (Leb-Iraq-Fr)
Dir. Abbas Fahdel
Human Flowers Of Flesh (Ger-Fr)
Dir. Helena Wittmann
Il Pataffio (It-Bel)
Dir. Francesco Lagi
Matter Out Of Place (Austria)
Dir. Nikolaus Geyrhalter
Tommy Guns (Port-Fr-Angola)
Dir. Carlos Conceição
Piaffe (Ger)
Dir. Ann Oren
Rule 34 (Bra-Fr)
Dir. Julia Murat
Serviam – Ich Will Dienen (Austria)
Dir. Ruth Mader
Fairytale (Bel-Rus)
Dir. Aleksandr Sokurov
Stella Est Amoureuse (Fr)
Dir. Sylvie Verheyde
Stone Turtle (Malay)
Dir. Ming Jin Woo
Tengo Sueños Eléctricos (Bel-Fr-Costa)
Dir. Valentina Maurel
Concorso Cineasti del presente 2021
A Perfect Day For Caribou (US)
Dir. Jeff Rutherford 25
Arnold Is A Model Student (Thai-Sing-Fr-Neth-Phil)
Dir. Sorayos Prapapan
Astrakan (Fr)
Dir. David Depesseville
Before I Change My Mind (Can)
Dir. Trevor Anderson
Sister, What Grows Where Land Is Sick? (Nor)
Dir. Franciska Eliassen
It Is Night In America (It-Fr-Bra)
Dir. Ana Vaz
Fragments From Heaven (Mor-Fr)
Dir. Adnane Baraka
Love Dog (Pol-Mex-US)
Dir. Bianca Lucas
Matadero (Arg-Sp-Fr)
Dir. Santiago Fillol
Our Lady Of The Chinese Shop (Angola)
Dir. Ery Claver
Petites (Fr)
Dir. Julie Lerat-Gersant
Petrol (Australia)
Dir. Alena Lodkina
Safe Place (Cro)
Dir. Juraj Lerotić
Nightsiren (Slovak-Czech)
Dir. Tereza Nvotová
How Is Katia? (Ukr)
Dir. Christina Tynkevych
Piazza Grande
Bullet Train (US)
Dir. David Leitch
My Neighbor Adolf (Isr-Pol-Col)
Dir. Leon Prudovsky
Where The Crawdads Sing (US)
Dir. Olivia Newman
Piano Piano (It)
Dir. Nicola Prosatore
Paradise Highway (US-Ger-Switz)
Dir. Anna Gutto
Medusa Deluxe (UK)
Dir. Thomas Hardiman
Delta (It)
Dir. Michele Vannucci
Printed Rainbow (India) (2006, short)
Dir. Gitanjali Rao
Last Dance (Switz-Bel)
Dir. Delphine Lehericey
Une Femme De Notre Temps (Fr)
Dir. Jean Paul Civeyrac
Semret (Switz)
Dir. Caterina Mona
Home Of The Brave (US) (1986)
Dir. Laurie Anderson
Annie Colère (Fr)
Dir. Blandine Lenoir
Compartiment Tueurs (Fr) (1965)
Dir. Costa-Gavras
Vous N'aurez Pas Ma Haine (Ger-Fr-Bel)
Dir. Kilian Riedhof
Imitation Of Life (US) (1958)
Dir. Douglas Sirk
Alles Über Martin Suter. Ausser Die Wahrheit (Switz-Ger)
Dir. André Schäfer