Fox's Kung Fu Panda 3 previews strongly; Universal's Hail, Caesar! opens with $2.2m (£1.52m); eOne's Spotlight receives a post-Oscar boost of 69%.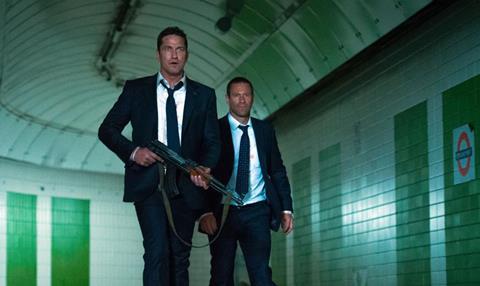 LIONSGATE
Overcoming some savage reviews, London Has Fallen dethroned Deadpool to top the UK box office on debut.
Lionsgate's action sequel scored a strong $4.5m (£3.2m) opening, including $724,000 (£511,336) in previews, from its 510 sites for a healthy $8,888 (£6,276) site average. Its Fri-Sun tally of $3.8m (£2.69m) would have also seen it land top spot.
The opening is almost £1m ahead of Olympus Has Fallen which bowed to $3.2m (£2.25m), including $923,000 (£652,000) in previews, from its 453 sites, going on to take $8.6m (£6.1m).
Barring a dramatic collapse, London Has Fallen should comfortably pass that tally, even if the arrival of Kung Fu Panda 3 this weekend will mean its stay at number one is shortlived.
Also for Lionsgate, The Choice posted a UK debut of $195,000 (£137,392) from its 205 sites.
That marks the lowest debut for a Nicholas Sparks adaptation, although it's worth noting that The Choice also received the smallest release site-wise.
UNIVERSAL
Hail, Caesar! charted second with an opening of $2.2m (£1.52m), including $113,000 (£79,784) in previews, from its 494 sites through Universal.
That marks the fourth-best debut for the Coen Brothers at the UK box office, but the third-best Fri-Sun tally as Intolerable Cruelty's $2.2m (£1.56m) from 380 sites included $328,000 (£231,844) in previews.
True Grit is currently the Coens best-ever performer with $12m (£8.46m), and Hail, Caesar! will require some robust midweek performances and weekend holds if it's to challenge that.
Also for Universal, Dad's Army is up to $11.5m (£8.09m) following a $161,000 (£114,005) fifth weekend, while Secret In Their Eyes is only at $297,000 (£209,449) after ten days in play. The original grossed $1.1m (£800,000) in its run.
FOX
It won't officially be in the chart until next week, but Kung Fu Panda 3 is off to a promising start at the UK box office.
Fox's threequel banked a non-final $2.2m (£1.57m) in previews on Saturday and Sunday which would have been good enough for second spot this weekend. It opens nationwide this Friday [March 11].
Also for Fox, Deadpool fell 50% on its way to a $2.1m (£1.5m) fourth weekend for a terrific $48.2m (£34.1m) to date. It is now the sixth biggest superhero film of all time, with Iron Man 3's $52.4m (£37m) still an achievable target.
Alvin And The Chipmunks: The Road Chip added $759,000 (£535,760) for $21.7m (£15.34m), while The Revenant boosted 1% post-Oscars to take a further $476,000 (£336,114) for an excellent $31.9m (£22.5m) to date.
On its UK bow, The Other Side Of The Door could only scare up a non-final $360,000 (£253,871) from its 336 sites, and will likely struggle to hold onto its sites this coming weekend.
SONY
Grimsby followed up its disappointing opening with a $1.1m (£800,000) second weekend as it dropped to fourth.
Sony's action comedy is now up to $5.1m (£3.57m) and is likely to end its run as the lowest-grossing performer for a Sacha Baron Cohen creation. Ali G Indahouse is currently his smallest take on $14.6m (£10.3m) back in 2002.
Also for Sony, Goosebumps has now spooked up $12m (£8.5m) after five weeks in play.
WARNER BROS
In its third week, Warner Bros' comedy How To Be Single grossed $756,000 (£534,000) for a solid $6.7m (£4.7m) to date.
Also for Warner Bros, audiences avoided Truth, which unsurprisingly struggled on its UK debut as it took only $37,000 (£26,000) from 118 sites for a weak $312 (£220) site average, although it was unlikely to have had full showtimes throughout the weekend.
EONE
Following its Oscar Best Picture win, eOne's Spotlight boosted 69% to add $468,000 (£330,388) for $7.7m (£5.4m) after six weeks in play.
ICON FILM DISTRIBUTION
The Forest posted a hefty drop of almost 70% for a $179,000 (£126,162) second weekend and a ten-day tally of $1.2m (£816,320) through Icon Film Distribution.
STUDIOCANAL
After Brie Larson's Oscar win, Studiocanal's Room boosted midweek but didn't receive a bump over the weekend as it took an extra $85,000 (£59,714) for $5.3m (£3.77m) to date.
DOGWOOF
From its 26 sites through Dogwoof, Hitchcock/Truffaut opened with $34,000 (£23,733) including $4,200 (£2,947) in previews.
ALTITUDE
Following its UK premiere at Glasgow Film Festival, Altitude's Time Out Of Mind posted a UK bow of $32,000 (£22,442), including previews, from its 41 sites.
VERTIGO RELEASING
Originally set for release last year with Koch Media, Vertigo Releasing opened Austrian horror Goodnight Mommy at 25 sites for an $18,000 (£12,995) UK debut.
UPCOMING RELEASES
This week sees saturation releases for eOne's The Divergent Series: Allegiant (opens March 10), Fox's Kung Fu Panda 3 and Vertigo Releasing's Fifty Shades Of Black.
Universal's The Witch and Curzon Film World's Anomalisa both receive wide releases, while Icon Film Distribution's The Ones Below and Peccadillo Pictures' Next To Her are among the films receiving a limited release.