Tonislav Hristov's Love & Engineering is to open the 20th edition of the Visions du Réel documentary film festival.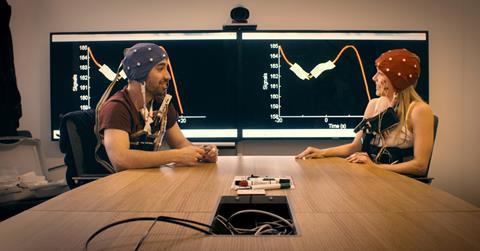 The film about a Bulgarian computer engineer searching for a formula to create irresistible seductive power for four desperate digital geeks searching for analogue love will open this year's festival in Nyon, Switzerland tomorrow (April 24). The festival runs from April 25 to May 3.
The German-Finnish-Bulgarian co-production won the Audience Award at DocPoint Helsinki and is set to be screened at Hot Docs Toronto and the Tribeca Film Festival this month.
Nyon's 2014 edition will see the festival celebrating two anniversaries: in 1969, the Festival international de cinéma Nyon was founded by the later Berlinale director Moritz de Hadeln, and the name change to Visions du Réel was taken by present artistic director Luciano Barisone's predecessor Jean Perret in 1995
19 feature-length documentaries from 17 countries in the festival's main competition will be judged by an International Jury comprising UK producer Simon Field, German film-maker Nicolas Humbert and the French philosopher Marie-José Mondzaim.
This year's line-up includes Audrius Stonys' Cenotaph (Lithuania), Hatuey Viveros Lavielle's Coffee (Chants Of Smoke) (Mexico), Christian Frei's Sleepless In New York (Switzerland); Sinisa Dragin's The Forest (Romania/Serbia) and Kairish Viestur's Pelican In The Desert (Latvia).
While the Focus region is dedicated to documentary film-making in Tunisia, the Ateliers will be presented by US film-maker Ross McElwee and Belgium's Pierre-Yves Vandeweerd.
A new sidebar, Grand Angle, will be programming films previously shown at other festivals such as Iain Forsyth and Jane Pollard's FIPRESCI Prize-winner in Istanbul last week, 20,000 Days On Earth, Volker Koepp's In Sarmatien, Don Argott's As The Palaces Burn, and Sini Anderson's The Punk Singer.
In addition, a new lifetime achievement award, the Prix Maitre de Réel, will be presented to veteran Swiss documentary film-maker Richard Dindo.
World premieres in Nyon's 2014 line-up include Ellen Vermeulen's 9999, Stéphane Breton's A Few Days Together, Chelsea and Andrew Moynehan's Big Mocassin, Iwan Schumacher's The Art Foundry, Carolina Campos' Frozen Man, Maximilian Haslberger's The Humanitarians, Sofie Benoot's Desert Haze and Domino Effect by Elwira Niewiera and Piotr Rosolowski.
DOCM diversity
Visions du Réel's parallel industry programme, DOC Outlook - International Market (DOCM) will include numerous networking opportunities for producers to meet distributors, broadcasters and sales agents in workshops and one-to-one consultancies.
In addition, this year's Pitching du Réel co-production forum will showcase 15 feature documentaries looking for financing, ranging from Bill Morrison's Dawson City: Frozen Time (USA) and Thomas Haley's Preacher Man (France) through Karin Jurschick's War And Games (Germany) to Shane Bunnag's Demon Dancer (Thailand) and Eugenio Polgovsky's Resurrection (Mexico).
Meanwhile, seven projects in the final stages of postproduction were selected for Docs In Progress, including Chilean director Cristian Saldia's The Noise Of Trains, the Colombian-Spanish co-production Urwälder, and Marc Schmidt's Dutch-Swiss co-production The Chimpanzee Complex; and the Rough Cut Lab will offer advice to such directors of debuts or second features as Brazil's Paula Gomes, Switzerland's Eileen Hofer and Poland's Rafal Skalski.
Visions du Réel's artistic director Luciano Barisone and his selection committee visited 30 countries and screened 3,500 titles as preparation for the 2014 programme which will be showing 170 films from 57 countries, including 84 world premieres and 34 international premieres.
DOK Incubator picks eight
Eight documentary projects at rough cut stage from across Europe have been selected for the 2014 edition of DOK Incubator six-month workshop which concludes at DOK Leipzig at the end of October with a public presentation of the final package.
Projects include Czech film-maker Eva Tomanová's Always Together!, produced by Endorfilm's Jiri Konecny, Diedie Weng's Swiss-Canadian production The Beekeeper's Family, Gábor Hörcher's Drifter, a Hungarian-German co-production between KraatsFilm Productions and Weydemann Bros., and Polish director Agnieszka Zwiefka's The Queen Of Spades, produced by Heino Deckert of ma.ja.de
Films which have passed through the previous editions of DOK Incubator workshops have included The Stuff and Katrine Philp's Dance For Me, Men With Balls
DOK Leipzig looks for new festival director from 2015
Changes are on the cards at the world's oldest documentary film festival DOK Leipzig with the announcement by festival director and CEO Claas Danielsen that he will stepping down after this year's edition (October 27 - November 2, 2014) to ¨move on and look for new challenges by the end of the year¨.
A graduate of Munich's HFF film school and a documentary film-maker in his own right, Danielsen took over the management of DOK Leipzig in April 2004. He has been credited with transforming the event into one of the most popular audience festivals in Saxony and a leading meeting place for the national and international documentary film communities.
His successor will be expected to begin work as the new festival director and CEO from January 1, 2015 to prepare the 58th DOK International Leipzig Festival of Documentary and Animation Film.
Ant!pode picks debuts from Razbezhkina's documentary school
Fledgling Russian sales company Ant!pode sales & distribution has taken on international sales for five feature documentary debuts made by graduates from Marina Razbezhkina's private film academy (Winter, Go Away).
They are:
* Denis Klebleev's 31st Haul which was shown by at Paris' Cinema du Réel and Toronto's Hot Docs last year;
* Tamara Dondurey's 21st Day, a sublime portrait of an old woman in her last days in a hospice;
* Denis Shabaev's Together , a charming road movie about an attempt by a father and daughter to find a common language;
* Kristina Kvitko's Mousetrap, a family drama from the life of one unusual mother and her children;
* Olga Privolnova's Zvizji , a tragic, farce-like sketch of life in the village of Zvizji located 170 km from Moscow.
Ant!pode intends to add additional titles by graduates from Razbezhkina's school as they are completed in the future.