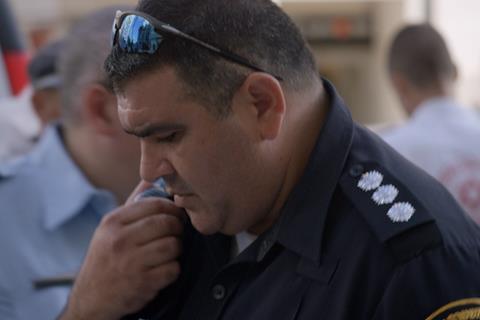 At its awards ceremony last night (August 1), Jerusalem Film Festival (JFF) presented Yaron Shani's Love Trilogy: Chained with the Haggiag award for best Israeli feature while Ladj Ly's Les Miserables won the Jerusalem Foundation award for best international feature.
Chained follows an Israeli policeman whose marriage and masculinity are threatened after he is accused of sexual assault by two teenage boys. A Berlinale premiere in February, it's the second film in Shani's Love Trilogy following Stripped, which first showed in Venice Horizons last September. The third feature, Reborn, is currently in post-production.
The Israeli feature award comes with a prize of $28,500 (ILS100,000), and the film also won best actor for Eran Naim and the audience award.
The best Israeli documentary award, with a $14,250 (ILS50,000) prize, went to One Hundred Percent by directors Yael Kipper and Ronen Zaretzky. The jury described it as "a moving and insightful portrait of a school that has succeeded beyond all measure in bringing a community of Druze children out of their isolation and impoverishment."
Other winners in the Israeli competition included Naama Preis as best actress for God Of The Piano and best original music for Red Fields, Keren Yedaya's big-screen adaptation of a cult 1980s Israeli rock opera, Mami.
In the international competition, Bora Kim's House Of Hummingbird was the inaugural winner of JFF's international first feature award.
Schory issues warning
The festival kicked off on July 25 at its traditional outdoor opening venue, the Sultan's Pool, with Palme d'Or winner Parasite.
While Israel's president Reuven Rivlin delivered a touching opening speech in advance of the screening (his late wife was a key supporter of the festival and the Jerusalem Cinematheque), the star of the evening was Katriel Schory, who recently stepped down after 20 years as the head of the Israel Film Fund and was on hand to accept a JFF lifetime achievement award.
Addressing the audience in both Hebrew and English, Schory summed up his credo while head of the fund – during which he supported the production of over 300 feature films and established Israeli cinema as an international force – as "without fear and without favours".
But Schory, an increasingly embattled figure under Israel's ruling right-wing government and particularly its controversial culture minister Miri Regev, also issued a warning for the future: "The Israeli cinema, perhaps because of its great achievements and success, has become an easy target to pressure and interest groups who with a series of regulations are trying to curb its creative spirit and freedom."
Quoting Heinrich Heine and George Orwell, he reminded the opening-night JFF audience that "the worst censorship is the fear of your own words", and "if liberty means anything at all, it means the right to tell people what they do not like and do not want to hear".
Given ongoing threats from the government to interfere with the present system of film support, Schory's words were intended to find their mark.
The 36th edition of Jerusalem Film Festival comes to close this Sunday (August 4). Guests at the festival this year included Pawel Pawlikowski, Green Book producer Charles Wessler, Agustin Almodovar and Laszlo Nemes.
Jerusalem Film Festival 2019 winners
Israeli competition
Best feature film – Love Trilogy: Chained
Best debut film – Born In Jerusalem And Still Alive
Best documentary film – One Hundred Percent
Best director, documentary – Ariel Semmel, Parano
Best screenplay – Gur Bentwich, Peaches & Cream
Best actor – Eran Naim, Love Trilogy: Chained
Best actress – Naama Preis, God Of The Piano
Best cinematographer – Laurent Brunet, Red Fields
Best editing – Boaz Frankel, That's The Way You Love
Best original music – Yossi Marchaim, Ehud Banai, Dudu Tassa & Nir Maimon, Red Fields
Audience award, fiction – Love Trilogy: Chained
Audience award, documentary – A Fish Tale

International competitions
Best international feature film – Les Miserables
Best international first feature – House Of Hummingbird
The Chantal Akerman award – Heimat Is A Space In Time
In The Spirit of Freedom award for best feature film – Give Me Liberty
In The Spirit of Freedom award for best documentary – Midnight Family