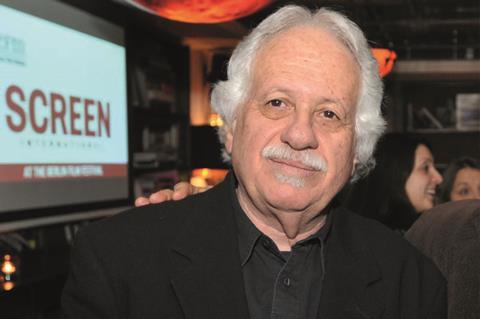 Katriel Schory, the respected long-time head of the Israel Film Fund (IFF), has announced he is planning to step down in early 2019.
"After 20 years of serving as the executive director of the Israel Film Fund, I notified the board of directors of my wish to step down, early next year," Schory said in a letter, due to be mailed out to friends and contacts in the international film industry on Monday.
The industry veteran emphasised he will not be walking away from the Israeli film industry, which he has helped grow at home and champion internationally. "At the request of the film community and the fund's board, I agreed to continue to serve as a consultant on international relations and activities," he said.
Recent IFF- backed films include Savi Gabizon's Longing and festival hits such as Maysaloun Hamoud's In Between, Talya Lavie's Zero Motivation and Nadav Lapid's The Kindergarten Teacher.
Schory said he will remain in his role until a new director is appointed by the IFF board, and will work closely with his replacement to ensure a smooth transition. The process is expected to take three or four months. Schory said the board will put out a call for candidates in the coming days.
"I am not yet 'hanging-up my gloves' and will continue to do all I can to safeguard the complete creative freedom of Israeli filmmakers," said Schory.
Battle for creative treedom
Schory's imminent departure comes at a sensitive time for Israel's traditionally left-leaning cinema community, as it battles to retain creative freedom in the face of attempts by the country's right-wing nationalist Minister for Culture and Sports Miri Regev to seize control of film funding.
Since 2001, Israeli state funding, worth ILS80 ($21m) has been meted out by autonomous funds, led by the IFF and the Cinema Project of the Yehoshua Rabinovich Foundation for the Arts. Set up as NGOs, these bodies award funding on the basis of advice from their own teams of readers.
Regev, who has waged a public campaign against films she deems critical of Israel - such as Samuel Maoz's drama Foxtrot, which was backed by the IFF - wants to strip the funds of their independence and exercise more control over who gets state backing.
In recent weeks, she has pushed through reforms to the 2001 Israeli Cinema Law giving her ministry the power to vet and approve the readers advising the funds.
She is also attempting to introduce new legislation, referred to locally as the Loyalty in Culture law, which would prevent artistic projects critical of the State of Israel, or its symbols, from receiving state funding.
Schory has often been on the frontline of the battle to retain creative freedom and on the receiving end of stinging public attacks by Regev. He stressed, however, that she had not played a role in his decision to step down.
The fight will continue
Schory acknowledged his departure came at a difficult time for the Israeli film industry but said he would not be walking away in its hour of need.
"The Israeli Cinema, mainly because of its great achievements turned these days into an easy target for politicians, who in relentless efforts to change the existing cinema law and with a series of senseless and damaging regulations try to impose measures with the aim to curb the creative freedom and independent thinking," wrote Schory in his letter.
"We in the Israeli film community are determined to overcome these hurdles and continue to safeguard the Israeli cinema, which is so precious to us all."
Talking to Screen, he added: "It is a delicate time and there's a certain amount of anxiety in the Israeli film industry at the moment but I am not going away. I was never afraid of anything or to speak my mind, and I will continue to do so and be just as active, if not more. I am not disappearing."
Champion of Israeli ciinema
Since taking the reins of the fund in 1999, Schory has overseen the funding of more than 300 full-length features and is credited with having played a key role in the renaissance of Israeli cinema after a period in the doldrums in the 1990s.
Schory said he was thankful for having been "able to take part and contribute to (I dare say) the dramatic comeback of the Israeli Cinema, which regained domestic and international recognition, success and acclaim."
A respected figure on the international film festival stage too, Schory was honoured with Berlinale Camera Award for his contribution to Israeli cinema earlier this year.