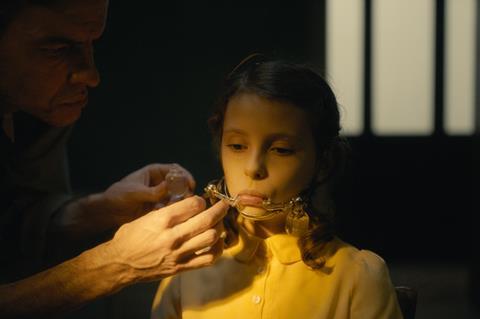 Lucile Hadzihalilovic has unveiled the first image from the set of her English-language debut Earwig starring UK actor Paul Hilton which began shooting in Belgium last Wednesday (November 4), against the backdrop of the country's strict lockdown aimed at slowing the spread of Covid-19.
Set in the Belgian city of Liege some time in the mid-twentieth century, Hilton (Lady Macbeth, The Crown) plays a 50-year-old man employed to care for a strange 10-year-old girl who lives a solitary existence in a large, darkened apartment. His main duty is to attend to her ice dentures which need changing several times a day.
Every week the telephone rings and a male voice enquires about the girl's well-being. One day, the voice informs the man he must prepare his young charge to leave the apartment.
Adapted from the 2019 novel Earwig by UK writer, performance artist and sculptor Brian Catling, Hadzihalilovic co-wrote the script with Geoff Cox. It is her third feature after Innocence and the 2015 San Sebastian special jury prize winner Evolution. Other cast members include Alex Lawther and Romola Garai, who will join the set in the coming days.
Backed by Film4 and the BFI, it is a joint production between Jean des Forêts at Paris-based Petit Film, whose credits include Raw, and the UK's Andy Starke under the Anti-Worlds banner, in co-production with Jean-Yves Roubin's Liege-based Frakas Productions. Wild Bunch International is launching sales during the AFM.
It is among only a handful of independent co-productions managing to shoot in Europe at this time, with partial or full Covid-19 lockdowns across the region creating extra challenges, especially around travel and insurance.
Belgium went into a second national lockdown on October 31. Like most European territories, however, it is attempting to keep economic activity ticking over and has allowed film and TV shoots to continue as part of this strategy.
"We're working in complete isolation," des Forêts told Screen. "The film has one main setting, an apartment. We found a big house in central Brussels which is serving as both the set and a headquarters for the production and also has space for the cast and crew to eat… it is enormous, at least 1,000 square metres."
A key factor enabling the production to maintain its November dates has been its access to a special guarantee fund created by St'Art, the culture and creativity fund of the Wallonia-Brussels region, to cover Covid-19-related shooting risks. The production was eligible for the fund through Belgian partner Frakas Productions.
"We have a similar scheme in France but it doesn't cover productions shooting outside of the country," said des Forêts.
He hopes the production will not have cause to tap into the fund. As well as regular testing of both the cast and crew, a rigorous hygiene and social distancing regime has put been put in place. The production even hired a disease control expert, whose worldwide experience includes dealing with Ebola outbreaks in Africa, to advise on the best protocol
"Ultimately, the most effective measures are to wear a mask and keep two metres distance. If everyone really respects that you won't have a problem. Tests are important but half the crew goes home every night and even if they're careful, they could still catch Covid but if everyone wears a mask and respects distance, this should stop the transmission of the virus," said des Forêts.
"I don't think I've seen a Covid protocol as strict as that on Lucile's film," he added. "We have two crew members who are constantly cleaning the set and disinfectant gel everywhere, I think the electricians are washing their hands 80 times a day. Lucile wears her mask the whole time and Paul Hilton, as soon as a scene is shot, puts his mask back on well."
Breaking the Covid-19 hiatus
Earwig was originally due to shoot at the beginning of April but pre-production was put on hold at the beginning of March as the first wave of Covid-19 in Europe started to take off.
"We took the decision before the lockdowns were put in place but I had this intuition and I felt it would be easier to put it on hold in pre-production rather than to grind to a halt in the middle of the shoot," recalled des Forêts.
"We didn't know exactly when we would able to shoot but we set the date of November 4 quite early on and used the time to work through with the other partners on the film as well as the agents on how we would deal with issues like hygiene on set and the actors' travel."
The production will spend three weeks shooting in central Brussels before heading to locations outside of the city and then onto Liege, with shooting scheduled to wrap on December 14.
In the backdrop, the shoot marks the first time many of the cast and crew have been on set since mid-March.
Hilton, for example, was starring in The Inheritance on Broadway when Covid-19 abruptly closed the production, two weeks before its six-month season was scheduled to end.
"He left from one day to the next, without time to properly say goodbye to the 60 people he worked with on the production and has not worked since in all these months," said des Forêts. "He said he felt that by being able to travel to make a film, he was giving an important sign to his children who are a bit depressed by the situation."
It is a sentiment that is echoed throughout the cast and crew, all of whom have been grappling with the uncertainties of the pandemic as well as local issues, he adds.
"There's a special atmosphere on the set as if people feel alive again after months of uncertainty," said des Forêts.