Adapting, staying open to opportunities and being prepared to take calculated risks are the name of the game as the world heads into the last major global film market of 2020.
In every way that sounds like any other year, except circumstances are forcing everyone to try and raise their game as they fight to stay afloat. Faced with a global health crisis like none in living memory, traditional revenue streams have been decimated by an unpredictable pandemic that holds an industry and many parts of the world hostage.
Nearly six months on from a virtual Cannes Marché and accompanying agency-led initiative that many deemed a resounding success, the American Film Market (AFM) prepares to debut online and attendees are hopeful that, like the postponed Cannes market activities, business will be done.
Cinemas have reopened since the summer, although many in Europe are reducing their hours of operation or closing again as a second wave of the coronavirus sets in, bringing with it tighter restrictions, curfews and national shutdowns.
China has performed well and local content is thriving at cinemas. Chinese box office has overtaken North America for the first time this year, and a third wave of the virus is ravaging parts of the US, where cinemas in Los Angeles and New York remain closed.
The Hollywood studios have abandoned 2020, yet there have been pockets of indie success. After We Collided is approaching $50m worldwide through Voltage Pictures licensees and is the independent hit of the year, while STX's Greenland — dispatched to PVoD and HBO Max for US audiences — has grossed more than $33m internationally. Solstice Studios' Unhinged, which earned a respectable $20m in North America, has grossed roughly the same internationally.
Anticipated US sales titles at AFM 2020 Online include Revolver starring Ethan and Maya Hawke (Endeavor Content sells international, UTA Independent Film Group and CAA Media Finance represent US); AGC Studios' Universe's Most Wanted starring Dave Bautista; FilmNation selling international on musical Molly And The Moon with Kristen Bell and Jonathan Groff; STX's American Sole; and Lionsgate International's Shotgun Wedding starring Jennifer Lopez and Armie Hammer.
At time of writing director Andrew Stanton (Finding Nemo, Stranger Things) was understood to be presenting Revolver to buyers on Monday, the first day of the market.
"There have been a good number of theatrical successes out of the independent market," notes Voltage Pictures president and COO Jonathan Deckter. "There are holes in the theatrical market that we're trying our best to fill."
After We Collided, the sequel to $70m global box-office hit After, was always going to be Voltage's big ticket this year. The third and fourth instalments of the franchise — based on the Anna Todd book series — have been filming in Bulgaria, and have mostly pre-sold.
Besides the YA adaptation, Voltage has found success by being more opportunistic than usual. For example, it picked up sales (excluding Italy) and reported a good response to Eagle Pictures' YA romcom Out Of My League, a rare foreign-language film for the company and its first Italian-language tale.
Voltage's genre title Follow Me has generated more than $4.7m at the box office, including $800,000-plus in Benelux through Dutch FilmWorks, roughly $350,000 via Studio­canal in Australia, typically not a genre market, and more than $1.7m through Capelight in Germany, the film's success story to date.
Territories remain available on Follow Me, which Deckter notes might not have received the kind of theatrical attention it has garnered in any other year stacked with studio tentpoles. "It's a great opportunity for distributors to be creative and experiment, and that's what independent distributors do," he says. Year-on-year, Voltage expects to finish 2020 ahead of its pre-coronavirus forecasts.
A complete picture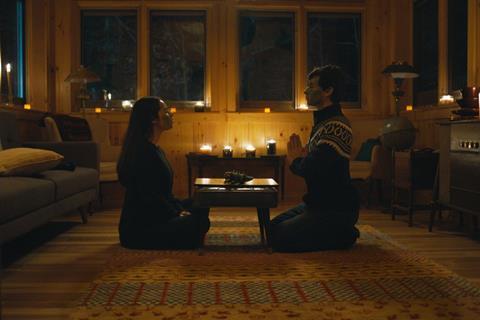 It became clear early on in the pandemic that buyers would be in urgent need of completed content to release as soon as possible and to plug into their 2021 slots.
XYZ Films saw the writing on the wall. "In April, XYZ shifted gears to focus on completed films while theatrical releases and productions were on hold," says Tatyana Joffe, president of international sales and distribution. "We saw a gap in the market for Q3, Q4 of this year and Q1 and Q2 in 2021.
"In Cannes we announced a couple of completed films — 2067 and Alone. Since then we've announced What Lies Below and Initiation, and now we're announcing the completed thriller How To Deter A Robber and Shookum Hills."
Joffe will be launching world sales at AFM on Patriot Pictures' thriller Blackout starring Josh Duhamel, which started production in Mexico City last month. She adds: "We want to see movies in theatres, and that business model is still going to be there. Until life goes back to that business, we need to find other ways."
That has meant thinking outside the box. XYZ has sold packages of completed films to buyers in Latin America for digital release, where those distributors would not ordinarily distribute films that way. But audiences, sitting at home while cinemas are closed, need content.
"That's why Netflix and Amazon are going in with a vengeance in acquisitions," notes Joffe, adding that she knows of buyers who have paid for up to 40 films without being able to release a single one theatrically.
Swallowed by streamers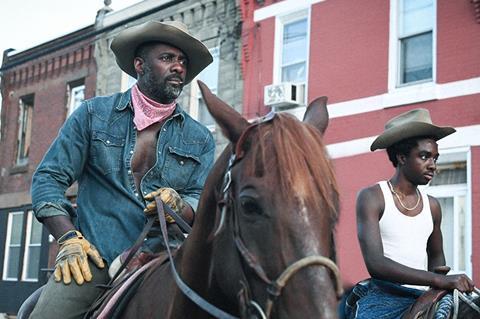 Netflix in particular has been voracious at the markets, paying more than $70m to date on films out of Toronto such as the completed Halle Berry drama Bruised, Pieces Of A Woman starring Venice best actress winner Vanessa Kirby, Idris Elba drama Concrete Cowboy, and the John David Washington and Zendaya romance Malcolm & Marie.
Toronto was a strong market for sellers including Endeavor Content, which handled sales on several of the above titles to Netflix, and Eros­STXinternational, which reported more than $100m in deals on a slate that included Kristen Bell comedy Queenpins, which started production in California last month, and Guy Ritchie action thriller Five Eyes with Jason Statham.
Once production gets back on track in a meaningful way, Netflix and other streamers may withdraw again. But, for now, they remain hungry to satisfy their subscriber base, and are expected to be scouring AFM for the choice packages.
How independent buyers compete against the streamers remains a challenge. Besides Netflix, both Amazon Studios and HBO Max are looking for content, and Apple has come into its own as a buyer this year — spending a reported festival record $105m at virtual Cannes for worldwide rights to Will Smith thriller Emancipation. Now more than ever, the indies will have to fight for their lives.
There will be pre-sales packages at AFM, and many sellers, mindful that theatrical exhibition will return, will want to ensure some are within reach of their long-standing network of friends in international theatrical.
As production returns in parts of the US, and more so in Canada where there have been far fewer cases of Covid-19 than south of the border, independent buyers will be hoping affordable content comes to the market.
Amid a highly challenging landscape, independent productions have by necessity scaled down: generally, large shoots with crowd scenes have been harder to mount, while smaller productions with fewer cast members have become the practical choice. Contained genre films are highly sought after.
Carissa Buffel, CEO of The Traveling Picture Show Company, started production in Tulsa, Oklahoma in October on the comedy Unplugging, starring Eva Longoria and Matt Walsh. Canada's Productivity Media is financing the story about a couple that rekindle their love on a digital-detox weekend, and Three Point Media financed the Oklahoma tax credit.
"We would love to see this get released theatrically," says Buffel. "I want to know, from a timing perspective, if that would be possible. This is a timely movie in terms of its message and we wouldn't want to diminish that by holding. The conversation has to include our financiers and whether they'd want to be in lockstep with a theatrical release or a multitude of streaming and digital opportunities that are out there."
The original plan had been to shoot in Los Angeles — however, the relatively low number of infections in Oklahoma and looser quarantine restrictions during prep last summer made it a suitable location. "All the stuff you normally do on location like dinners are wiped out, but it's still fun being on location and seeing it come together," says Buffel.
The production has implemented Covid-19 protocols (see Screen's feature on North American production in the age of the coronavirus, page 26). In the case of Unplugging, these have included zoning to separate key cast and crew from the rest of the production, Screen Actors Guild-mandated virus testing, commandeering a hotel to house the production, and providing individually wrapped food servings.
It remains extremely difficult to get Covid-19 coverage in the US, and independent productions cannot afford to self-insure like studios and streamers. Yet the resourcefulness of the independent space endures, and US productions have been wrapping without many positive Covid-19 tests.
"With so much being shut down of late," she adds, "being in production and having some product going into 2021 is a great feeling."
Buyers couldn't agree more.