Upcoming films by Babak Jalali, Kaouther Ben Hania and Bassem among the 34 projects due to attend this year.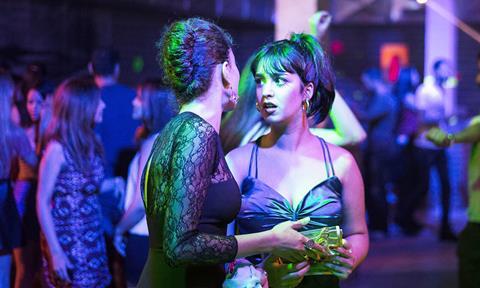 Scroll down for full list of projects
Argentine film-maker Lucrecia Martel and veteran producer Paulo Branco have been confirmed as the final two 'masters' at the Doha Film Institute's talent development event Qumra.
They will join previously announced mentor-speakers Iranian director Asghar Farhadi, French auteur Bruno Dumont and creative documentarian Rithy Panh at the third edition of the bespoke event, running March 3 to 8, 2017.
Colourful Portuguese producer Paulo Branco – who is based between Paris and Lisbon – has more than 300 producing credits to his name, amassed over four decades, working with the likes of David Cronenberg, Wim Wenders, Chantal Akerman, Alain Tanner, Werner Schroeter, Olivier Assayas, and Cédric Kahn.
His Paris-based sales and production company Alfama Films is at the EFM this year with Robert Schwentke's long-awaited Second World War adventure title The Captain.
"Paulo Branco is one of those old-style producers who continue to challenge the world," said Qumra's Palestinian director Elia Suleiman, who is Qumra's artistic director.
"He has amazing stories. I remember him telling me about how he produced Wenders's The State of Things at the age of 20 with very little experience. Wenders was at a loss and Paulo said, 'I'll produce it' even though he didn't have a penny. It's a classic," added Suleiman, referring to the 1982 Golden Lion winner. "After James Schamus last year, it's great to have Paulo."
Martel, whose past films include The Swamp, The Holy Girl and The Headless Woman, is currently working on post-production for her 17th century period drama Zama.
DFI CEO Fatma Al Remaihi said: "Lucrecia Martel and Paolo Branco are luminaries in the world cinema, who bring a unique perspective on filmmaking that will incredibly benefit emerging filmmakers who have been selected to participate in Qumra this year.
In their role of masters, Martel, Branco, Farhadi, Dumont and Panh will screen a seminal title from their filmography, give a master-class and also meet participants on a one-on-one basis to give them tailored advice on their projects.
Past Qumra masters include Mexican actor, producer and director Gael García Bernal; Romanian director Cristian Mungiu; US producer and director James Schamus; Russian master Aleksandr Sokurov; Bosnian director Danis Tanović; and Japanese film-maker Naomi Kawase.
34 Projects
Since launching in 2014, Qumra has steadily become a go-to event for up-and-coming film-makers, known for its intimate atmosphere and easy access to top producers, sales agents and established talent.
It has also become a bountiful hunting ground ahead of Cannes. Last year, Netflix first scouted Cannes Camera d'Or winner Divines at the event, sealing the deal during the festival in May.
Directors attending with projects this year will include Palestine's Muayad Alayan, Tunisian film-maker Mehdi Hmili, Lebanon's Bassem Breche and British-Iranian director Babak Jalali and Kaouther Ben Hania from Tunisia.
This year, 34 projects from 25 countries have been selected for the six-day event, including 12 Qatar-based projects. A total of 23 of the projects have been supported by the DFI grant programme. There are 18 narrative feature films, seven feature documentaries and nine short films.
Directors attending with projects this year include Palestine's Muayad Alayan, Tunisian film-maker Mehdi Hmili, Lebanon's Bassem Breche and British-Iranian director Babak Jalali and Kaouther Ben Hania from Tunisia.
The 2017 Qumra Projects are:
(synopses provided by the DFI)
Feature Narrative, Development:
A House in Jerusalem by Muayad Alayan (Palestine, Qatar), about a Jewish American family who finds it hard to adapt to their new home in Jerusalem after they discover the grave of a young Palestinian girl.
Solo by Mehdi Hmili (Tunisia, Qatar) about Amel, who is released from prison after an affair and seeks her missing son Moumen, in the lower depths of Tunis.
The Maiden's Pond by Bassem Breche (Lebanon, Germany, Qatar) about two women trying to maintain and negotiate their lives – with and against each other.
Zanka Contact by Ismaël El Iraki (Morocco, France, Qatar) is the romantic idyll and eventful odyssey of a has-been rocker and a singer with a golden voice, whose love will turn underground and dangerous Morocco upside-down.
You Will Die at Twenty by Amjad Abu Alala (Sudan, Egypt, Qatar) is set in a world where extremism rules, a young man has to choose between life and death.
The Return by Meyar Al-Roumi (Syria, France, Qatar), about a journey across Syria during which Taysir and Juliette meet and go to bury Kamal, who died during the fighting.
The Other Wife by Meriem Mesraoua (Qatar, France) about Salima who, determined to secure her status as a wife, enlists a secondary spouse for her husband – only to find she has jeopardised her position.
Hitch 60 (working title) by Sara Al Obaidly (Qatar, United Kingdom), where two mod girls from South East London embark on a dream holiday but end up on the journey of a lifetime, crossing continents and cultures, and growing up years on the road.
iPhone Memory by Mahdi Ali Ali (Qatar) which presents three stories that intersect in Paris – about a Frenchman, who battles cancer while his wife wants an abortion; a Romani girl looks for someone to adopt her little sister; and a Syrian immigrant boy tries to survive by acting in the cinema.
Azooz, the Bully Slayer by Mohammed Al Hamadi (Qatar). Set in 1992 and inspired by Al Watwat (Batman) stories, 'Azooz the Bully Slayer' is the tale of a 12-year-old who fends off a thief who has made off with a stash of Sega video-game tapes.
The DNA of Love by Hafiz Ali Ali (Qatar). After the death of his Qatari wife, a retired engineer visits the United States to find his estranged daughter, while the same daughter travels to Doha to find answers to her late mother's past.
Feature Documentary, Development
My Friend Gadhgadhi by Rafik Omrani (Tunisia, Lebanon, Qatar) is about Kamel Gadhgadhi, the infamous terrorist in Tunisia, who turns out to have been a close friend of the director at college.
Republic of Silence by Diana El Jeiroudi (Syria, Germany, France, Qatar), which talks about the protagonist reclaiming the images and sounds of Syrians from her exile.
Feature Narrative, Works-in-Progress
Memory Hotel by Heinrich Sabl (Germany, France, Qatar) is an emotional journey through European history. Set in a Red Army hotel in post-World War II Germany, the orphan Sophie grows up. She marries a paratrooper before escaping with another man.
Land by Babak Jalali (United Kingdom, Italy, France, The Netherlands, Mexico, Qatar), is a story about Native Americans, white people, distance, longing and abuse, set in the American plains.
They by Anahita Ghazvinizadeh (Iran, United States of America, Qatar), in which through the prism of J, a gender-expansive teenager going through puberty suppression, the film explores notions of in-between-ness, whether of gender, cultural identity, or the idea(s) of 'home.'
Madmen's Fort by Narimane Mari (Algeria, France, Greece, Germany, Switzerland, Qatar), in which desires and greed lurk like raptors, preparing to transform a utopian dream into tragedy.
Feature Documentary, Works-in-Progress
Dream Away by Marouan Omara and Johanna Domke (Egypt, Germany, Qatar) set in Sharm El Sheikh, where young Egyptian workers are trapped between a liberal Western lifestyle and their traditional culture.
Al Sahra by Saeed Al Batal and Ghiath Al Haddad (Syria, Lebanon, Qatar) in which two artists become entwined in the affairs of the besieged city of Gouta in this personal story about a group of young people in Syria.
Stronger than a Bullet by Maryam Ebrahimi (Iran, Sweden, Qatar) that documents Saeed Sadeghi, the Iranian photographer who responsible for images from the Gulf War.
Agnus Dei by Karim Sayad (Algeria, Switzerland, Qatar) set in Algiers, 2016, on one of Bab el Oued's football fields, where Habib and his sheep El Bouq are getting ready for the fight.
Feature Narrative, Picture Lock
The Journey by Mohamed Jabarah Al Daradji (Iraq, United Kingdom, France, Qatar) narrates the story of Sara who stands on the cusp of committing an unthinkable act, time stands still, giving her an opportunity to witness the consequences of her action. But is this a second chance or an admission of guilt?
Beauty and the Dogs [pictured] by Kaouther Ben Hania (Tunisia, France, Sweden, Lebanon, Qatar) that charts Mariam, who just wanted to enjoy her night out, but something terrible happens, forcing her to seek justice from the same perpetrator of the crime committed against her.
Hunting Season by Natalia Garagiola (Argentina, France, Germany, United States of America, Qatar), in which a violent teenager reunites with his hunter father in the woods of southern Argentina, where he is faced with his own ability to love and to kill.
Feature Documentary, Picture Lock
The Man Behind the Microphone by Claire Belhassine (Tunisia, United Kingdom, Qatar), an amazing story of love and family, celebrity and music through a portrait of Hedi Jouini, the godfather of Tunisian music.
Qumra Shorts
Reem Planted a Flower by Rawda Al-Thani (Qatar) depicts a textbook example of a well-behaved schoolgirl who defies the omnipresent voice of the narrator to play with a dog.
Sh'hab by Amal Al-Muftah (Qatar) is about an orphan who embarks on a mythical journey that could reunite him with his parents.
Ya Hoota by Latifa Al-Darwish and Abdulaziz Yousif Ahmed (Qatar) is about a little girl who attempts to save the moon from a gigantic whale along with her cousin.
Angels, Spiders and Other Miserable Creatures by Fahad Al Kuwari (Qatar) portrays a couple who pray for a miracle, and God sends them an angel. What will they do with it?
Awakenings by Fahad Al-Obaidly (Qatar). Haunted by an obscure memory from his past, a young contemporary dancer inadvertently stumbles upon a painful forgotten truth, which releases his soul from the clutches of despair.
Simsim by Amer Jamhour (Jordan, Qatar) is about a 12-year-old cemetery cleaner and con artist who tries to save enough money for a train ticket to Latakia, where he can become a fisherman away from his greedy boss.
Clouds by Muzna Almusafer (Oman, Qatar), about a leopard hunter in a traditional village in the mountains, who goes through a transformation.
Burn the Bird by Zahed Bata (Jordan, Qatar) is about a mother and son who explore the darkness of the night in search of a place to bury their past.
Selective Mutism by Khalifa AlMarri (Qatar) about a young man caught up in various incidents of deception, intrigue and murder.