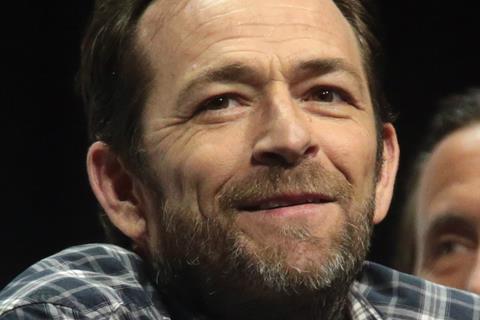 Luke Perry, who rose to fame on the TV hit Beverly Hills, 90210 and stars in Quentin Tarantino's upcoming Once Upon A Time In Hollywood, has died following a severe stroke. He was 52.
Perry passed away in hospital in Burbank outside Los Angeles on Monday (4) surrounded by family, according to reports. He had been in hospital under observation after suffering what was reportedly a huge stroke last week (February 28).
The actor was born in Mansfield, Ohio, on October 11 1966. He relocated to Los Angeles in the early 1980s in the hopes of earning a living in entertainment, and after numerous failed auditions finally landed commercials work and a role on TV shows Loving and Another World.
His big break came when he got the role of the roguish Dylan McKay on Beverly Hills, 90210, which became a smash and established Perry as a household name.
Other roles included the TV series Riverdale, Ties That Bind, Body Of Proof, Buffy The Vampire Slayer, and the film The Fifth Element.

Last week reports emerged of a cast reunion on a Beverly Hills, 90210 reboot. It is understood Perry had not committed to the project before he fell ill.