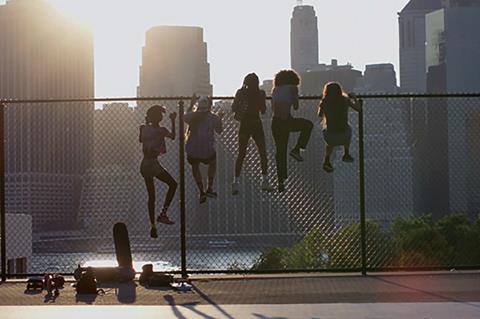 Magnolia Pictures has acquired North American rights to Sundance NEXT selection Skate Kitchen, Crystal Moselle's follow-up to her Sundance 2015 hit The Wolfpack.
The film premiered in Park City last month and paints a boisterous picture of a Long Island teenager whose life changes when she befriends a group of female skateboarders in New York. Magnolia plans a theatrical release this summer.
Rachelle Vinberg, Dede Lovelace, Nina Moran, Ajani Russell, Kabrina Adams, Jules Lorenzo, and Brenn Lorenzo star alongside Jaden Smith. Moselle wrote the screenplay with Aslihan Unaldi and Jen Silverman.
The Bow and Arrow Entertainment and RT Features presentation was made in association with Pulse Films and Kotva Films.
Lizzie Nastro, Izabella Tzenkova, Julia Nottingham, Moselle, Matthew Perniciaro, Michael Sherman, and Rodrigo Teixeira produced. Executive producers are Lourenco Sant'Anna and Sophie Mas.
"Crystal Moselle has proven in impressive style that The Wolfpack was no fluke," Magnolia president Eamonn Bowles, who distributed the earlier film, said.
"Everything about Skate Kitchen is so fresh and compelling – the cast, the skateboarding and the way she makes us look at New York City with new eyes."
"After a successful and adventurous release of The Wolfpack, I am incredibly excited to work with Magnolia on the release of Skate Kitchen," Moselle said. "It's a film that I know they completely get and I can't wait to collaborate again."
Magnolia co-executive vice-president Dori Begley and Magnolia senior vice-president of acquisitions John Von Thaden brokered the deal with UTA Independent Film Group on behalf of the filmmakers.