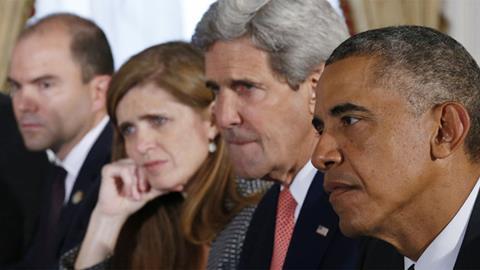 Magnolia Pictures has acquired worldwide rights to HBO documentary film The Final Year following its recent world premiere in Toronto.
Greg Barker's film chronicles the work of former US president Barack Obama's foreign policy team during his last year in office.
Julie Goldman of Motto Pictures and John Battsek of Passion Pictures produced the film, which Magnolia plans to release in a "robust, multi-city" theatrical pattern on January 19 2018 to mark the anniversary of the presidential inauguration. Magnolia International will handle sales out the US.
HBO will debut The Final Year in the second quarter of 2018. The documentary screened at the BFI London Film festival and will open DOC NYC on November 9.
"Many television series and films have attempted to capture the triumphs and failures that occur daily within the West Wing, but none have taken as humanistic an approach as The Final Year," Magnolia president Eamonn Bowles said. "Greg Barker has crafted an essential, fly-on-the-wall account of one of the most consequential years of any presidential administration."
"In many ways this has been the most rewarding film of my career," Barker said. "To have managed to secure an inside view of the true machinery of the American foreign policy machine was both a privilege and a responsibility, and to see audiences both inspired and moved by The Final Year makes that journey all the more worthwhile and gratifying."
"We as filmmakers have always wanted the widest possible release for this film and we are thrilled that HBO has given us this opportunity and can think of no better partner than Magnolia in the US and Dogwoof in the UK," Goldman and Battsek said. "We have been truly overwhelmed by the audience response we have had from the screenings at the Toronto International Film Festival and BFI London Film Festival; it seems that the film strikes a chord with cinema audiences at this pivotal moment."
Magnolia co-executive vice-president Dori Begley and Magnolia senior vice-president of acquisitions John Von Thaden brokered the deal with Josh Braun of Submarine.