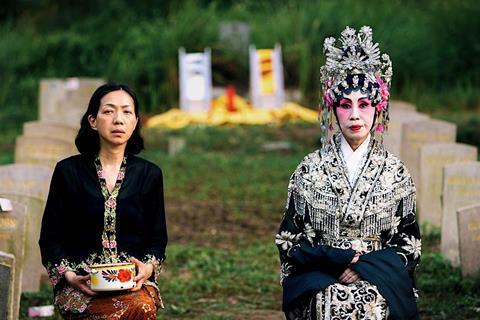 Chong Keat-aun's historical epic Snow In Midsummer leads the nominations for the 60th Golden Horse Awards in Taiwan, scoring nine nods including best film and best director.
Lin Chun-yang's SARS drama Eye Of The Storm and Cheng Wei-hao's ghost comedy Marry My Dead Body are close behind with eight nominations apiece.
Each will compete in the best film category along with Stonewalling by husband-and-wife team Huang Ji from mainland China and Ryuji Otsuka from Japan, and Time Still Turns The Pages, the feature debut of Hong Kong director Nick Cheuk.
Scroll down for full list of nominations
Malaysian director Chong of Snow In Midsummer and Huang and Otsuka of Stonewalling are also vying for the best director prize. Both films premiered in Venice Days this year and last year respectively. Further contenders for best director are Cheng of Marry My Dead Body, Hsiao Ya-chuan of Old Fox and Hong Kong director Wong Ching-po of Taiwanese production The Pig, The Snake And The Pigeon.
The latter two films each secured seven nominations alongside Malaysian title Abang Adik and Trouble Girl.
Marry My Dead Body, the highest grossing local film at this year's Taiwanese box office to date, scored two best actor nominations, with both Hsu Kuang-han and Austin Lin on the list. Competing with them are Wu Kang-ren for Abang Adik, Wang Po-chieh for Eye Of The Storm and Ethan Juan for The Pig, The Snake And The Pigeon.
The best actress category is equally competitive with veteran actress Monica Lu of Day Off and mainland Chinese actress Hu Ling of Carp Leaping Over Dragon's Gate facing off against a younger generation of talents. They include 12-year-old Audrey Lin of Trouble Girl, the youngest best actress nominee in Golden Horse Awards' history, Chung Suet-ying of The Lyricist Wannabe and Jennifer Yu of In Broad Daylight, both from Hong Kong.
The best new director race includes Cheuk whose Time Still Turns the Pages is also up for best film; Malaysian director Jin Ong whose Abang Adik which earned multiple awards in Fribourg and Udine; actor-turned-director Lee Hong-chi whose Love Is a Gun recently won the Lion of the Future Award at Venice; Alan from China whose This Woman won a special jury award at Visions du Reel; and fellow Chinese filmmaker Sun Jie with The Mountain Is Coming.
This year's nominated films represent a more geographically diversified selection with productions and nominees from not just Taiwan, but also an increasing number from Malaysia, Hong Kong and even mainland China. Some 552 submissions were received, including 78 narrative feature films, two animated features and 58 documentary features.
The nominations were announced today by Wen Tien-hsiang, CEO of the Taipei Golden Horse Film Festival, and Hong Kong actor Anthony Wong, winner of best actor at last year's Golden Horse Awards. Taiwanese director Ang Lee serves as jury president.
All nominated films will play at the Golden Horse Film Festival, which is set to open with Snow In Midsummer and Be With Me on November 9.
The 60th Golden Horse Awards ceremony will take place on November 25 at National Dr Sun Yat-sen Memorial Hall in Taipei City.
Golden Horse Awards nominations 2023
Best Narrative Feature
Stonewalling
Marry My Dead Body
Time Still Turns The Pages
Eye Of The Storm
Snow In Midsummer
Best Director
HUANG Ji, Ryuji OTSUKA, Stonewalling
CHENG Wei-hao, Marry My Dead Body
HSIAO Ya-chuan, Old Fox
CHONG Keat-aun, Snow In Midsummer
WONG Ching-po, The Pig, The Snake And The Pigeon
Best New Director
Alan, This Woman
Jin ONG, Abang Adik
Nick CHEUK, Time Still Turns The Pages
LEE Hong-chi, Love Is A Gun
SUN Jie, The Mountain Is Coming
Best Leading Actor
HSU Kuang-han, Marry My Dead Body
Austin LIN, Marry My Dead Body
WU Kang-ren, Abang Adik
WANG Po-chieh, Eye Of The Storm
Ethan JUAN, The Pig, The Snake And The Pigeon
Best Leading Actress
HU Ling, Carp Leaping Over Dragon's Gate
Audrey LIN, Trouble Girl
CHUNG Suet-ying, The Lyricist Wannabe
Monica LU, Day Off
Jennifer YU, In Broad Daylight
Best Supporting Actor
Jack TAN, Abang Adik
Sean WONG Tsz-lok, Time Still Turns The Pages
Akio CHEN, Old Fox
FU Meng-po, Day Off
Bowie LAM, In Broad Daylight
Best Supporting Actress
Eugenie LIU, Old Fox
CHEN Yi-han, Trouble Girl
Wan Fang, Snow In Midsummer
Beatrice FANG, Day Off
Rachel LEUNG, In Broad Daylight
Best New Performer
TAN Kim-wang, Abang Adik
Daniel HONG, Miss Shampoo
Travis HU, A Boy And A Girl
TSE Wing-yan, Fly Me To The Moon
YEH Hsiao-fei, Who'll Stop The Rain
Best Original Screenplay
YAN Xiaolin, Carp Leaping Over Dragon's Gate
HUANG Ji, Ryuji OTSUKA, Stonewalling
Nick CHEUK, Time Still Turns The Pages
CHIN Chia-hua, Trouble Girl
SUN Jie, The Mountain Is Coming
Best Adapted Screenplay
WU Chin-jung, CHENG Wei-hao, Marry My Dead Body
WONG Yee-lam, The Lyricist Wannabe
CHONG Keat-aun, Snow In Midsummer
CHUK Tsz-yin, Fly Me To The Moon
Best Cinematography
Kartik VIJAY, Abang Adik
Jake POLLOCK, Eye Of The Storm
HSU Chih-chun, Snow In Midsummer
YU Jing-pin, Fish Memories
CHEN Chi-wen, Who'll Stop The Rain
Best Visual Effects
TU Wei-ting, Trouble Girl
ArChin YEN, Eye Of The Storm
LIN Chi-feng, Bala LIN, LIU Jia-Xuan, Aben LEE, The Bridge Curse: Ritual
Tomi KUO, Hulk CHEN, Gareth WANG, The Pig, The Snake And The Pigeon
Best Art Direction
WANG Chih-cheng, YOU Li-wen, Old Fox
HUANG Mei-ching, CHENG Chia-cheng, Trouble Girl
HUANG Mei-ching, TU Shuo-feng, Eye Of The Storm
WU Jo-yun, Miss Shampoo
Albert POON Yick-sum, Kate TSE, In Broad Daylight
Best Makeup & Costume Design
Elaine NG, Abang Adik
WANG Chih-cheng, Shirley KAO, Old Fox
Elaine NG, Snow In Midsummer
Karen YIP, HSIAO Pai-chen, LIU Hsien-chia, Miss Shampoo
Albert POON Yick-sum, CHAN Hau-sin, In Broad Daylight
Best Action Choreography
CHIU Li-wei, Tony WANG, Pigsy
HUNG Shih-hao, Marry My Dead Body
HUNG Shih-hao, Miss Shampoo
WU Jun-xi, The Bridge Curse: Ritual
HUNG Shih-hao, The Pig, The Snake And The Pigeon
Best Film Editing
LIAO Ching-sung, OTSUKA Ryuji, Stonewalling
CHEN Chun-hung, Marry My Dead Body
Keith CHAN Hiu-chun, Nick CHEUK, Time Still Turns The Pages
SHIEH Meng-ju, Eye Of The Storm
WONG Ching-po, The Pig, The Snake And The Pigeon
Best Sound Effects
Sidney HU, LI Chun-yi, Trouble Girl
Book CHIEN, SUN Sy-yuan, TANG Hsiang-chu, Eye Of The Storm
TU Duu-chih, WU Shu-yao, CHEN Kuan-ting, Snow In Midsummer
TU Duu-chih, HUANG Yuan-tse, A Boy And A Girl
Book CHIEN, CHEN Jia-li, YANG Jia-shen, TANG Hsiang-chu. The Pig, The Snake And The Pigeon
Best Original Film Score
Chris HOU, Old Fox
Thomas FOGUENNE, Trouble Girl
LU Luming, Eye Of The Storm
YII Kah-hoe, CHONG Keat-aun, Snow In Midsummer
LU Luming, LIN Hsiao-chin, LIN Sih-yu, Baobu Badulu, The Pig, The Snake And The Pigeon
Best Original Film Song
"Untitled", Marry My Dead Body
"A Walk to Remember", Abang Adik
"Fledgling", Old Fox
"May Threnody", Snow in Midsummer
"The Usual", Day Off
Best Documentary Feature
Elegies (dir. Ann HUI)
Where (dir. TSAI Ming-liang)
Free Beats: The Musical Journey Of Chen Ming Chang (dir. LIN Cheng-sheng)
The Clinic (dir. Midi Z)
Youth (Spring) (dir. WANG Bing)
Best Animated Feature
Best Live Action Short Film
Reclaim My Summer (dir. CHEN Hao-wei)
Boys On The Bridge (dir. ZHANG Bu-yi)
Al Niente (dir. LAM Lo)
Before The Box Gets Emptied (dir. HO Sze-wai)
The Stag (dir. An CHU)
Best Documentary Short Film
The Memo (dir. Badlands Film Group)
Of Dreams In The Dream Of Another Mirror (dir. ZHU Yunyi)
Hearing From The Dolphin (dir. ZHANG Hong-jie)
Eviction And Beyond (dir. LIU Ren-feng)
Girl Of Wind (dir. YUEN Nanhsi)
Best Animated Short Film
The Egret River (dir. LIU Wan-ling)
Ever-Changing Clouds, Like My Ever-Changing Life (dir. CHEN Qiang)
Monsoon Blue (dirs. Ellis CHAN Ka-yin, WONG Hiu-kit)
Ghost Of The Dark Path (dir. Fish WANG)
Braided (dir. ZHANG Chenxi)
Outstanding Taiwanese Filmmaker of the Year
Lifetime Achievement Award
Brigitte LIN
CHEN Kun-hou