Disney's reimagining posts excellent $11m (£6.6m) debut, including previews, to top the chart; Fox's X-Men: Days of Future Past nears £20m after just 11 days in play.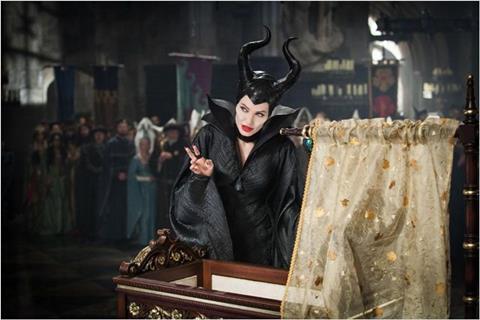 Casting a spell on its competition in a busy window of new releases, Maleficent has debuted top of the UK box office.
Disney's live-action reimagining of animated classic Sleeping Beauty posted an excellent $11m (£6.6m) debut, including $4.6m (£2.8m) in previews. It's worth noting that its $6.4m (£3.8m) Fri-Sun tally would have also seen it land the top spot.
The debut compares favourably to Oz the Great and Powerful which opened with $6.2m (£3.7m) on its way to $25.8m (£15.4m) in the UK, a tally which Maleficent is in a great position to surpass.
It's also the best-ever UK bow for a live-action Angelina Jolie film, topping the likes of Lara Croft: Tomb Raider ($6.4m/£3.8m) and Salt ($3.6m/£2.2m).
FOX
Dropping just over 50% (excluding previews), Fox's X-Men: Days of Future Past enjoyed a terrific $5.9m (£3.5m) second weekend in the UK.
Having grossed over $16.7m (£10m) over the past seven days, the latest X-Men outing is already up to $32.6m (£19.5m) and will become the best-ever performer of the series in the coming days, overtaking X2's $34.6m (£20.7m).
Also for Fox, Rio 2 flew to a further $356,000 (£213,000) for $24.8m (£14.8m) and will soon cross the £15m mark, while The Other Woman stands at $15.1m (£9.04m) after a $130,000 (£78,000) sixth weekend.
Mr. Peabody & Sherman has amassed $22.7m (£13.6m).
WARNER BROS
Action sci-fi Edge of Tomorrow landed third with a solid, if unspectacular, $3.2m (£1.9m) debut from its 437 sites through Warner Bros.
In terms of director Doug Liman's outings in the UK, it's only his fourth-best opening and some way behind his best, Mr. & Mrs. Smith's $6.6m (£3.9m) debut which included $678,000 (£405,000) in previews.
It's also lower than both of Tom Cruise's and Emily Blunt's previous ventures into sci-fi: Oblivion ($8.3m/£4.95m including $2.7m/£1.6m previews) and Looper ($4m/£2.4m).
However, strong reviews and positive word-of-mouth could see Edge of Tomorrow enjoy a sturdy holdover and a decent run.
Also for Warner Bros, Godzilla roared its way to a further $1.6m (£981,000) for $25.9m (£15.49m), while Blended added $380,000 (£227,000) for $3m (£1.8m) after two weeks in play.
UNIVERSAL
Charting fourth on debut was Universal's A Million Ways to Die in the West with a $2.1m (£1.24m) bow at a $4,468 (£2,667) site average.
The debut is some way short of Seth MacFarlane's directorial debut Ted which laughed its way to $15.6m (£9.3m), including $5.7m (£3.4m) in previews, on its way to $50.9m (£30.4m).
22 Jump Street arrives this Friday to provide further direct competition, meaning A Million Ways… may struggle to post a decent holdover.
Also for Universal, Bad Neighbours took an additional $928,000 (£554,000) for $25.4m (£15.19m) to date.
LIONSGATE
Dropping around 40% in its second weekend, Postman Pat: The Movie delivered a further $804,000 (£479,867) for Lionsgate to lift its UK tally to $4m (£2.4m).
EONE
Cannes Competition title Jimmy's Hall opened its UK run with $219,000 (£130,843), including just over $6,700 (£4,000) in previews, from its 95 sites through eOne.
That's less than half of Ken Loach's best-ever UK bow, which remains The Wind that Shakes the Barley's $655,000 (£390,720) from 105 sites. However, it was always going to be a tough window with three new saturation releases and the continued draw of X-Men.
Jimmy's Hall should enjoy decent returns mid-week and a steady holdover next weekend if it maintains its site count.
STUDIOCANAL
Now in its third week of release, StudioCanal's The Two Faces of January added $184,000 (£109,801) for $2.2m (£1.3m) to date.
Meanwhile, The Wind Rises is up to $1m (£616,236) after taking $59,000 (£35,466) from its 37 sites this weekend.
PARAMOUNT
Fading Gigolo grossed $129,000 (£77,000) in its second weekend through Paramount to stand at $626,000 (£374,000) in the UK.
SONY
The Amazing Spider-Man 2 is now likely to end its run as the lowest UK grosser of the series, after it took $87,000 (£51,791) for $40.2m (£24m) to date through Sony. Its direct predecessor is the current lowest Spider-Man outing at $43.5m (£26m).
Also for Sony, Heaven is for Real posted a UK bow of $13,000 (£7,762) from its 96 sites. However, only five of those sites played Fri-Sun while the rest were a one-off show on Sunday night.
SIGNATURE ENTERTAINMENT
In its second weekend of release, Legends of Oz: Dorothy's Return added $69,000 (£41,045) for $518,000 (£309,851) to date through Signature Entertainment.
CURZON FILM WORLD
Released in 11 sites through Curzon Film World, Venus in Fur grossed $20,000 (£11,874) over the weekend and currently stands at $23,000 (£13,797). Comparisons to recent Roman Polanski films would be unfair, given it's his first foreign-language film in some years.
UPCOMING RELEASES
This week sees saturation releases for Warner Bros' Grace of Monaco and Sony's 22 Jump Street.
Koch Media's Cheap Thrills, Altitude's Fruitvale Station and Soda Pictures' Pulp: A Film About Life, Death and Supermarkets are among the films receiving a limited release.