EXCLUSIVE: Universal heads orchestrated a precisely calibrated marketing campaign in support of the release that played a critical role in driving the tentpole past $1bn worldwide in record time on Monday.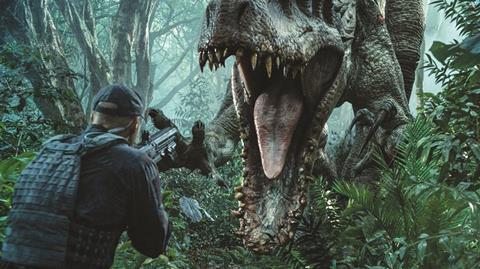 As production on Jurassic World gained momentum in 2014, top brass at Universal and co-financier Legendary grew increasingly confident that Colin Trevorrow's action franchise reboot would deliver thrills.
Yet there were potential obstacles. It had been 14 years since Jurassic Park III and 22 years since Jurassic Park, Steven Spielberg's beloved box office beast that spawned the franchise.
Universal's global marketing team knew that if their tentpole were to really take off they would need to tap into an enduring love for the series.
"We wanted to make sure Jurassic World was always going to be seen as one of the three big movies this year with Avengers 2 and Star Wars," says Simon Hewlett, the London-based executive vice-president of Universal Pictures International (UPI, pictured).
Harnessing brand value
"We probably started about 18 months ago. We were doing brand testing in our top markets to understand what the value of Jurassic Park was in those countries. That gave us a good understanding of people's relationships with the first three movies.
"It gave us an idea of where the original fans were and the new fans who had only seen it on DVD. At that point we were concept testing but didn't have the full story."
Hewlett says they started focus groups with all demographics roughly one year ago once executives had more of an idea of how Jurassic World was turning out.
Executives soon learned that 1993's Jurassic Park was the peoples' favourite of the series.
"The brand value of the original had not diminished in the key markets," Hewlett says. "It was still seen as a treasure and a significant point in people's cinema-going history; a lightbulb moment like Star Wars to a certain generation.
"From that we identified where our strengths were and where we had to work harder. We had to give people a reason to go and the reasons were different around the world and varied.
"People appreciated the darker side of Jurassic Park in some parts; in others it was a four-quadrant movie. In places like South Korea and Japan it was all about the experience and the wonder of an actual park being opened and what would that look like and the science appealed to some markets."
Appealing to Chinese audiences
Several elements appealed to Chinese audiences, who as of Monday (June 22) had generated $164.4m in ticket sales.
"Our testing showed that Chinese cinema-goers were interested in the science of Jurassic World, specifically the creation of a hybrid dinosaur," says Hewlett.
"Chinese audiences love spectacle and the big screen experience and Jurassic World absolutely fitted the bill. IMAX and 3D reinforced the big-screen experience."
Crucially the executive notes there was a high level of brand awareness, an interesting point given that when Jurassic Park first opened it was at a time when the volume of Hollywood exports to China was not what it is today.
Local audiences had seen the film online and Universal launched Jurassic Park 3D in China in 2013 and generated roughly $57m.
To reinforce awareness, UPI took the Jurassic World cast on tour to China, staged a major press junket and got the stars on Hot Tickets, a local show that dedicated 30 minutes to the upcoming release.
In other regions there was anticipation yet also protective parental instincts that voiced concern over the intensity of some of the sequences.
This was especially true in Germany but less so in the UK, for example. Both territories embraced Jurassic World, which so far has grossed $26.3m and $60.3m, respectively.
Mexico, where film-going is famously a family affair, has generated $29m and counting.
Launching the trailer
The first trailer came out in late 2014.
"Your first trailer is the biggest trailer… they're like mini-movie campaigns. We left nothing to chance and then we got a real sense of what people wanted. The response pretty much in every market was positive.
"We showed this film had a legitimate story in its own right and had a reason to be in the Jurassic Park legacy.
"We wanted to connect Jurassic World to Jurassic Park as it was Hammond's idea to build a park and this was the park that came to life," says Hewlett, referring to the character of John Hammond played by Richard Attenborough in the 1993 original.
Samsung and Mercedes Benz were the two official US promotional partners, who effectively became the studio's global partners given the immediacy of internet culture.
Universal's other divisions created special programming with broadcast partners while the products division targetted consumers with an array of merchandising.
So far the hard work appears to have paid off.