EXCLUSIVE: Tom Burke, Ariane Labed and Richard Ayoade also aboard two-part movie due to shoot this summer.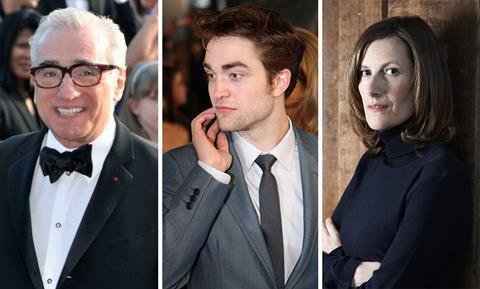 Robert Pattinson, Tom Burke, Ariane Labed and Richard Ayoade are due to star in British filmmaker Joanna Hogg's (Archipelago) next film The Souvenir, which will be executive-produced by Martin Scorsese.
Scorsese will serve as executive producer on the romantic mystery alongside his Sikelia Productions partner Emma Tillinger Koskoff.
The Souvenir, developed with the BFI and backed by BBC Films, will be made in two parts, the first feature set to shoot this summer and the second in summer 2018.
Spanning the decade of the 1980's, the film will chart the story of a young film student, involved in her first serious love affair, who tries to disentangle fact from fiction in a relationship with a complicated and untrustworthy man.
Only God Forgives actor Burke, who also had a leading role in BBC-TWC drama series War & Peace, will play the 'untrustworthy man'. Pattinson, who's Cannes competition entry Good Time is generating buzz ahead of its screening, will be the leading male role of the second film, playing an actor.
The Lobster star Labed and Submarine writer-director Ayoade, star of hit UK TV series The IT Crowd, will be among an impressive ensemble of supporting actors.
The role of the female protagonist has yet to be cast but is expected to go to a newcomer.
Protagonist handles world sales on the film, which is understood to be art-house filmmaker Hogg's most commercial prospect to date.
Producer will be Luke Schiller, line producer of Hogg's 2010 London Film Festival drama Archipelago.
Tom Hiddleston has starred in Hogg's previous three films but is not due to appear in The Souvenir, though the two are understood to be lining up future projects together.
The film will mark the first project from JWH Films, a production company recently set up by Hogg.
British talent
Scorsese told Screen in an exclusive interview: "The film came my way by chance. I was in London shooting Hugo and someone sent me a DVD of Archipelago. I remember looking at the film on the weekend and being very surprised by it. It was a stunning experience for me. I found it moving and beautiful. I then met Joanna in London."
Hogg is the second British filmmaker the iconic director has backed in recent years after Ben Wheatley, with whom he worked on Free Fire:
"A singular voice is important. Much of that is coming out of England. I've always been very influenced by British films. I find that so many interesting filmmakers are working at a low production scale there. That gives you freedom. But you still need money and support to help develop the artist. The important thing is to continue to support the individual voice. That's one of the reasons I like to speak up for that work."
Hogg explained: "This story has been in my head for a few years. After Exhibition, I talked to Martin about what I should do next. I had two ideas: one was a ghost story. The other was this one."
"I start from autobiography. When I investigate a story I realize what I don't remember and the demands of fiction take over: that's the fun part. Reality and fiction are so jumbled up. That blurring is partly what I'm exploring in this story."
Scorsese and Hogg spoke to Screen during the Cannes Film Festival, somewhere Scorsese called "the centrepiece of world cinema; the fulcrum that everything turns around".
The Oscar-winning filmmaker had intended to be at the event to celebrate its 70th edition but is currently gearing up to shoot anticipated big-budget crime-drama The Irishman, starring Robert De Niro and Al Pacino, which Screen sources have confirmed is due to go ahead with Netflix backing later this year.