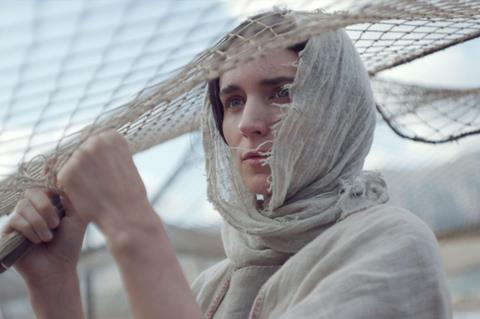 The biblical drama Mary Magdalene from See-Saw Films and Porchlight Films starring Rooney Mara has finally found a home in the post-Weinstein Company collapse and will go out in the US through IFC Films.
Garth Davis (Lion) directed the story about the misunderstood titular character, referred to in the Bible as a prostitute and who was, according to the gospels, a follower of Jesus. Joaquin Phoenix plays Jesus, Chiwetel Ejiofor is the apostle Peter, and Tahar Rahim is Judas.
Mary Magdalene received its world premiere at the National Gallery in London in 2018 and was written by Helen Edmundson and Philippa Goslett, and produced by Iain Canning, Emile Sherman, and Liz Watts. IFC Films will release the film theatrically on April 12.
Arianna Bocco, executive vice-president of acquisitions and productions of IFC Films, said, "The film daringly challenges conventional wisdom while telling a remarkable story with nuance, grace, and respect. Garth Davis is an incredible talent, and we're thrilled to be working with him and See-Saw Films to bring this film to audiences throughout the country."
Lisa Schwartz, co-president of IFC Films added, "Garth Davis' film offers a refreshing take on the story of Mary Magdalene, emphasizing the significance of her role which has long been minimized throughout biblical history. We are pleased to be a part of sharing her story from a fresh perspective and believe the timing could not be better."
Iain Canning and Emile Sherman of See-Saw Films said, "We are very excited that IFC will be bringing Mary Magdalene to audiences across the US. This amazing story is so beautifully directed by Garth. We look forward to seeing the film connect with US audiences in the way that Lion captured peoples' imagination in 2017."
Bocco negotiated the deal with UTA Independent Film Group on behalf of the filmmakers.