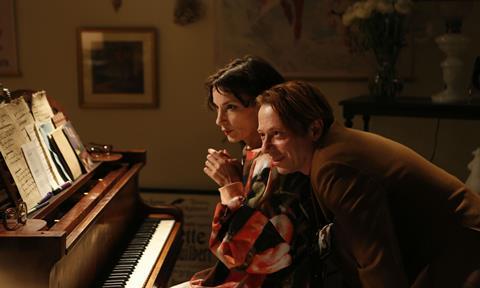 The US premiere of Mathieu Amalric's Barbara will open the 23rd Rendez-Vous With French Cinema, set to run in Hollywood from March 8-18.
The annual French cinema showcase will showcase 24 films from both emerging and established filmmakers, Film Society of Lincoln Centre and UniFrance announced on Wednesday (February 7).
Amalric and his leading lady and co-star Jeanne Balibar will attend the screening of his drama, which was recently nominated for nine Cesar awards including best film, actor, and actress.
Other films in the 2018 series include: Léonor Serraille's Montparnasse Bienvenue, which received the Camera d'Or award in Cannes; Jean-Paul Civeyrac's A Paris Education (Mes Provinciales); Noémie Lvovsky's Tomorrow And Thereafter; (Demain Et Tous Les Autres Jours); Xavier Legrand's Custody (Jusqu'à La Garde); Xavier Beauvois' The Guardians (Les Gardiennes); and Nobuhiro Suwa's The Lion Sleeps Tonight (Le Lion Est Mort Ce Soir).
"The level of originality and artistry exhibited in this year's lineup serves as proof that French cinema today is as innovative and creative as ever," Film Society of Lincoln Centre associate director of programming Florence Almozini said. "We are so pleased to be partnering again with UniFrance to bring you incredible stories, so many of which are anchored by strong, complex female leads – including outstanding performances by the likes of Jeanne Balibar and Emmanuelle Devos and unforgettable newcomers Laetitia Dosch and Iris Bry."
"French cinema today is unafraid to delve into the issues at the forefront of our collective consciousness, which is reflected throughout this year's selection," Unifrance executive director Isabelle Giordano said.
In addition to screenings, the series will feature two panels covering female empowerment and first-time feature films. For further details click here.