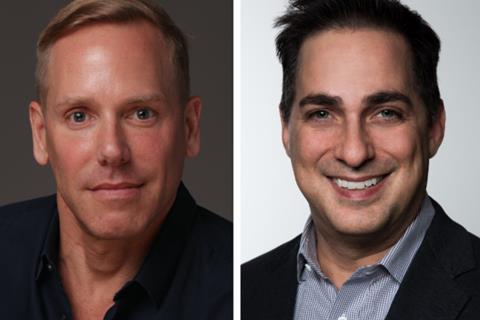 Highly regarded industry veterans Matt Brodlie and Jonathan Kier have launched Los Angeles-based Upgrade Productions to develop and produce premium local-language film and TV for a global audience.
Backed by German powerhouse Constantin Film and with a strategic partnership in place with Bron, Upgrade aims to exploit the boom in demand for local-language content as the co-founders leverage deep relationships and experience in sales, acquisition and producing to partner with content creators around the world.
Brodlie, who most recently served as SVP international content at Disney+, and Kier, the former president of Sierra/Affinity, are attending the MIA market in Rome and will engage with the industry at AFM 2021 Online in the first week of November.
Upgrade is actively financing development of original IP with local authors, filmmakers and showrunners and Brodlie and Kier expect to announce the first film and TV projects within the coming weeks. They cited Latin America, Japan and Eastern Europe, among others, as regions of growing activity.
Co-president Brodlie said, "There has been a profound shift in the viewing habits around the globe that has led to a dramatic increase in the demand for foreign-language films and series. Drawing from relationships with creative talent around the world, we are driven to bring compelling stories to the big and small screen. We already have an amazing slate in active development and are thrilled to officially launch."
Fellow co-president Kier added, "It's equally exciting to be working with Constantin Film, Bron and distributors that we have worked with from around the world as they expand into the content production space to provide the series and feature films that audiences are waiting for. These are exciting times for our industry and for the local creators stepping onto the global stage."
Constantin Film CEO Martin Moszkowicz said, "Matt Brodlie and Jonathan Kier are synonymous with success and style and under their leadership Upgrade Productions will be an immense source of pride for us all. Our efforts to bring top quality productions to the audiences of the world has reached a new level. I and the whole Constantin Film team look very much forward to be part of this exceptional journey."
Oliver Berben, deputy CEO added, "Matt and Jonathan are perhaps two of industry's most experienced and knowledgeable professionals working in local-language content and the international marketplace. They are at the top of their game with wonderful creative instincts and we are looking forward to working together. Growth of local-language production for the worldwide marketplace is part of our mission statement, it is the wave of the future, and we are delighted to be part of this team."
Brodlie and Kier are joined at Upgrade by Max Kondziolka from Sierra/Affinity as manager of international sales and production, and Clara Bartlett, who takes on the role of content manager after working with Brodlie at Disney+ and Netflix. Additional senior staffing positions at Upgrade, a reference to the pair's travel preferences, will be announced shortly.
At Disney+ Brodlie led content strategy for the company in all non-US markets and assmebled from scratch a development slate of narrative and unscripted series and films across Europe, Africa, Asia, Australia and Latin America. Prior to that he was director of Original Film at Netflix where he was responsible for some of the streamer's biggest early hits including Set It Up and To All The Boys I've Loved Before. He oversaw production of action and sci-fi films such as McG's Rim Of The World and Jonas Akerlund's Polar, and acquired and shepherded Roma, Mudbound and Klaus.
He has held a number of senior executive roles in production and acquisitions at studios like Paramount, where he helped build Paramount Vantage and ran the local-language film department. Before Paramount Brodlie managed local-language productions in Spain, France and Italy at Sony, and oversaw productions at TriStar. He started his career with 10 years at Miramax where he focused on acquiring non-English films like Hero, Amélie, City Of God, Shaolin Soccer, and The Barbarian Invasions.
During his tenure at eOne-owned Sierra/Affinity, now part of Hasbro, Kier managed worldwide sales and distribution of films such as Spotlight, I, Tonya, Atomic Blonde, Manchester By The Sea, Nightcrawler, Whiplash, Drive and The United States Vs. Billie Holiday.
Prior to Sierra/Affinity he oversaw all aspects of The Weinstein Company and Dimension Films releases in more than 50 countries all the way through the distribution chain from theatrical to ancillary. Titles included The King's Speech, The Reader, Elite Squad, Inglourious Basterds, Hoodwinked and Piranha 3D.