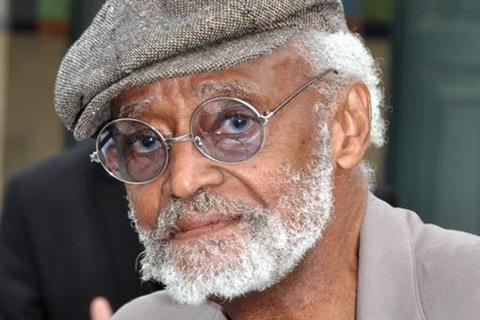 Melvin Van Peebles, the Renaissance man, author, filmmaker and icon of Black cinema who broke out with Sweet Sweetback's Baadasssss Song in the early 1970's, has died. He was 89.
Van Peebles was born in Chicago on August 21 1932 and gained a degree in literature from Ohio Wesleyan University before serving in the Air Force for several years. After that he married German actor and photographer Maria Marx, lived in Mexico, and then San Francisco where he began making short films in the late 1950s.
Unable to find directing work in Hollywood, he moved his family to the Netherlands where he added "Van" to his name. After his marriage ended his family moved back to the United States and Van Peebles lived in Paris for years, working as an investigative reporter and novelist and wrote and directed his first feature, La Permission.
That film was known as The Story Of A Three-Day Pass in the States and got Van Peebles noticed by Hollywood. Columbia Pictures hired him to direct 1970 racial satire The Watermelon Man. A three-film deal ensued although Van Peebles had to make Sweet Sweetback's Baadasssss Song by himself when the studio passed. He reportedly got a $50,000 loan from Bill Cosby and shot over 19 days, writing, editing, composing and starring as a ladies' man who fought racism and corruption in Los Angeles.
The 1971 film was immensely proftiable, earning more than $15m, and Sweet Sweetback's Baadasssss Song became a foundation stone of Blaxploitation cinema along with Gordon Parks Jr.'s Shaft and Super Fly.
Throughout the rest of his life Van Peebles acted and created film, art and music. He appeared as himself in the 2003 documentary Baadasssss and was the subject of the 2005 documentary How To Eat Your Watermelon In White Company (And Enjoy It).
In a statement the Van Peebles family, The Criterion Collection and Janus Films said, "In an unparalleled career distinguished by relentless innovation, boundless curiosity and spiritual empathy, Melvin Van Peebles made an indelible mark on the international cultural landscape through his films, novels, plays and music.
"His work continues to be essential and is being celebrated at the New York Film Festival this weekend with a 50th anniversary screening of his landmark film Sweet Sweetback's Baadasssss Song; a Criterion Collection box set, Melvin Van Peebles: Essential Films next week; and a revival of his play Ain't Supposed To Die A Natural Death, slated for a return to Broadway next year."
Van Peebles died surrounded by family at his home on Tuesday (September 21). He is survived by his son the filmmaker and actor Mario Van Peebles, daughter Megan Van Peebles, son Max Van Peebles and a number of grandchildren.