Neil Friedman's Menemsha Films has brought on distribution veteran Ed Arentz as a consultant on the upcoming release of awards hopeful 1945.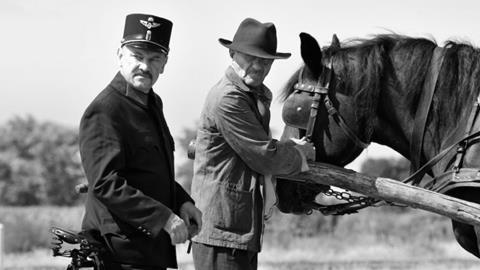 Arentz distributed Pawel Pawlikowski's Polish drama Ida when he was at Music Box, the company he co-founded. That film went on to win the foreign language Oscar in 2015.
Longtime marketing and distribution executive M.J. Peckos will handle bookings for Ferenc Török's black and white drama, which premiered to great acclaim in Berlin's Panorama in February and according to insiders is in the mix to represent Hungary at the Academy Awards in 2018.
Last weekend the film won the main prize at the De Neue Heimatfilm international festival held in Austria, adding to a haul that include four audience awards including the San Francisco Jewish Film Festival.
1945 takes place in the aftermath of the Second World War and centres on two Orthodox Jews who arrive at a Hungarian village bearing mysterious boxes as the locals prepare for a wedding.
The strangers trigger complex feelings among the villagers. Some feel remorse, while others harbour murderous thoughts.
Török wrote the screenplay with Gábor T. Szántó, whose acclaimed short story Homecoming formed the basis for the feature. Hungary's Katapult Film produced 1945 and Hungarian Film Fund was a major financier.
1945 will open theatrically in New York on November 1 at Film Forum and Lincoln Plaza Cinema.