EXCLUSIVE: Météore Films acquires feature for France ahead of Cannes premiere.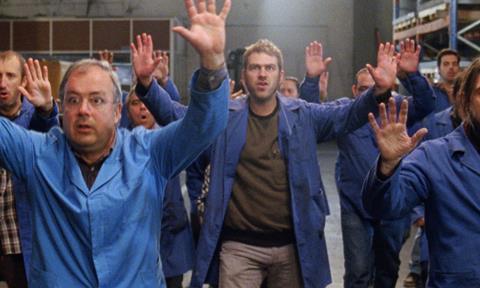 Paris-based Memento Films International (MFI) has taken on sales of Portuguese director Pedro Pinho's delocalisation comedy-drama The Nothing Factory (A Fabrica De Nada) ahead of its premiere in Directors' Fortnight.
The feature – combining drama, comedy and the occasional musical number - revolves around a group of factory-workers who turn-up for their shift one morning to discover the management has removed its machinery overnight.
It is the first sign of a massive lay-off. Most of the workers refuse to cooperate in redundancy negotiations and start to occupy the site, but when the factory bosses simply disappear, they left are high and dry. As the world around them collapses, new desires start to emerge.
In a first deal for MFI, Mathieu Berthon's Paris-based Météore Films has snapped up rights for France ahead of its Cannes debut.
It is a timely acquisition for the company on the eve of hard-fought French presidential elections in which the protection of worker rights has been one of the most contentious issues.
"Workers, intellectuals, cinephiles, European citizens…we're all concerned by this film," said Berthon.
"With such a social, committed, musical, sensual and deeply exhilarating movie, Pedro Pinho is a huge discovery and makes his mark as one of the most inventive filmmakers in Europe today."
MFI COO Nicholas Kaiser echoed Berthon, saying the company had fallen in love with the film immediately.
"It's full of life and cinema, and quite necessary in these rather troubled times. We really think that this is a true discovery that will enchant, move and energise distributors - just like it did with Météore - across Europe and the world," he said, adding: "It also contains the best musical moments set in a factory since Dancer in the Dark.
The Nothing Factory marks a debut feature for Pinho who studied cinema in Lisbon, Paris and London.
It was produced by the Terratreme production company, founded by Pinho and a number of up and coming Portuguese film-makers including João Matos, Susana Nobre and Leonor Noivo.
Berthon, who spent a decade working in distribution at Les Films du Losange followed by a stint at Potemkine, launched Météore Films 18 months ago. Its auteur driven slate has featured Fire At Sea, Suite Armoricaine, Between Fences and upcoming releases including Ex Libris - The New York Public Library by Frederick Wiseman and Nul Homme n'est une île by Dominique Marchais.
Read more:
Cannes 2017: Directors' Fortnight line-up
Cannes 2017: Official Selection in full
Cannes 2017: Critics' Week line-up