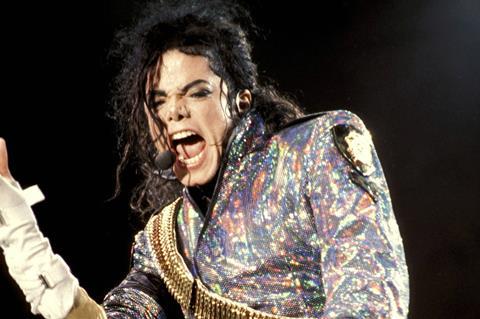 JANUARY 9 UPDATE: A US-UK documentary in which two men in their 30s claim they were sexually abused as children by Michael Jackson at the height of his fame has joined the Sundance 2019 line-up, it emerged on Wednesday (9).
Leaving Neverland directed and produced by Dan Reed runs to 233 minutes – nearly four hours – and will screen in two parts. The presentation will only screen once in Park City with no press screening and looks certain to cause a sensation.
The film's representatives confirmed later on Wednesday that the world premiere will take place in Park City on January 25 at 9am at The Egyptian Theatre followed by a Q&A with the filmakers. It will screen again in Salt Lake City on January 26 at 12.45pm at Broadway Centre Cinema.
Leaving Neverland focuses on the men as they recount their story, in which they say they were aged seven and 10 when they and their families embarked on long-running relationships with Jackson, whom they claim sexually abused them. AMOS Pictures Ltd is listed on the official Sundance website as the company associated with the production, and HBO co-heads of documentary and family programming Nancy Abraham and Lisa Heller are listed as executive producers alongside Tom Porter.
Reed's hard-hitting director credits include The Paedophile Hunter, Terror At The Mall, and Frontline Fighting: Battling ISIS.
Jackson died nearly 10 years ago in June 2009, aged 50. Despite a string of accusations over the years from various parties, he denied any allegation of sexual abuse or impropriety. In 2005 he was acquitted by a California court on 14 charges related to the molestation of a 13-year-old boy.
The late additions include a new Steve Bannon documentary, The Brink, in which Donald Trump's former chief strategist travels the world spreading his hardline anti-immigration message. Magnolia Pictures has acquired worldwide rights.
The two additions appear below. Synopses provided by the festival.
DOCUMENTARY PREMIERES CATEGORY
The Brink (USA)
Director: Alison Klayman
Producer: Marie Therese Guirgis
Now unconstrained by an official White House post, Steve Bannon is free to peddle influence as a perceived kingmaker with a direct line to the President. After anointing himself leader of the "populist movement," he travels around the U.S. and the world spreading his hard-line anti-immigration message.
World premiere
SPECIAL EVENTS CATEGORY
Leaving Neverland (USA-UK)
Producer and Director: Dan Reed
At the height of his stardom Michael Jackson began long-running relationships with two boys, aged 7 and 10, and their families. Now in their 30s, they tell the story of how they were sexually abused by Jackson, and how they came to terms with it years later.
World premiere
Sundance Film Festival runs from January 24-February 4.