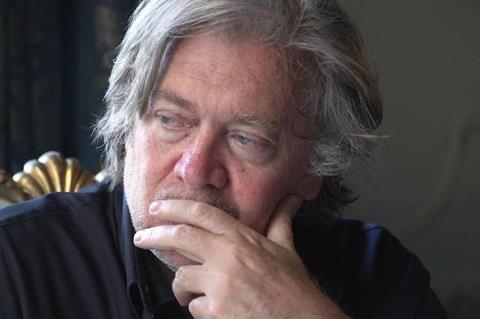 Magnolia Pictures has acquired worldwide rights to The Brink, the Steve Bannon documentary that joined the Sundance Film Festival line-up on Wednesday (9).
Magnolia head of international sales Lorna Lee Torres and manager of international sales Catalina Ramirez will commence international sales at the EFM in Berlin next month.
Alison Klayman (Ai Weiwei: Never Sorry) directed the fly-on-the-wall film in which Donald Trump's former chief strategist embarks on a global trip to spread his message of extreme nationalism.
The Brink follows Bannon through the 2018 US mid-term elections and his efforts to bolster the campaign by European far-right parties to win seats in the upcoming May European Parliamentary elections. Magnolia co-financed The Brink with RYOT Films and plans a US theatrical release in spring.
"Alison Klayman and producer Marie Therese Guirgis have pulled off an amazing achievement, going behind the scenes of a historic political and cultural moment and capturing it with both true artistry and import," said Magnolia president Eamonn Bowles. "The Brink must be seen by all who care about the dynamics of where our world is heading."
"There were a lot of risks and challenges to doing a vérité film like this, and Marie Therese and I could not have felt more supported by our partners Magnolia Pictures and RYOT Films," said Klayman. "We brought this project to Magnolia as merely an idea and they always understood the film. I feel lucky as a director to have the opportunity to work with them."
Marie Therese Guirgis and Klayman produced, and Adam Bardach, Hayley Pappas, Bryn Mooser, and Matt Ippolito served as executive producers.
Magnolia executive vice-president Dori Begley and Magnolia senior vice-president of acquisitions John Von Thaden brokered the deal with RYOT Films COO Matt Ippolito and Victoria Cook of Frankfurt Kurnit Klein & Selz on behalf of the filmmakers.