Drama deals from day one and two.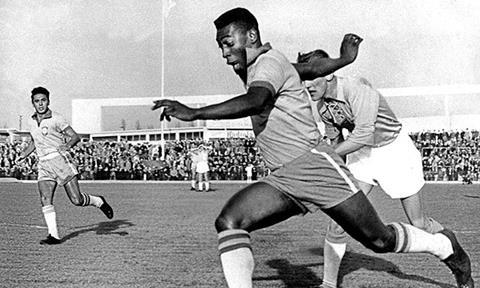 Keeping Up With The Kardashians producers plot Pele scripted series
US outfit Bunim/Murray Productions, the company behind reality show Keeping Up With The Kardashians, is plotting a limited series based on the life of Brazilian football icon Pelé.
MBC Group, Image Nation partner on HWJN feature, series
Middle East-based companies O3 Productions (part of MBC Group) and Image Nation are partnering on a series of adaptations of Ibraheem Abbas' novel HWJN.
The two companies will co-produce and co-finance an Arabic-language feature film, a TV spin-off title The Delusionists, and are plotting two further TV series based on the novel, details of which will be announced at a later date.
Former Sony boss launches drama outfit with UK's DRG
Former Sony CEO Howard Stringer is teaming with British television group DRG to launch a company focused on high-end drama series.
Atrium TV is aiming to produce 10 series over the next five years with a budget of about $5m per hour.
Movistar+ partners with Beta on first originals
Telefonica's pay-TV channel Movistar+ is partnering with sales outfit Beta Film on two original productions: eight-hour Spanish post-apocalyptic drama The Zone and Velvet Collections, a spin-off of Spanish series Velvet, which has run for four seasons to-date.
Separately, Beta has expanded its slates of Spanish titles by boarding two series from broadcaster Atresmedia and production outfit Bambu as co-producer. Historical drama Love In The Times Of War and crime series Farinia – Snow On The Atlantic are set to begin shooting in spring for delivery later in the year.
Dogwoof inks slew of TV deals on slate
UK documentary specialist Dogwoof has closed a series of TV deals for titles on its factual slate.
Liberation Day, about ex-Yugoslavian cult band Laibach performing in North Korea, has sold to BBC (UK), NRK (Norway), Channel 8 (Israel), Wanted (Italy, all rights), and Demiurg (Former Yugoslavia, all rights).
The Family, about Australia's most notorious cult, has gone to NRK (Norway), DR (Denmark), Channel 8 (Israel), Medialaan (Belgium), Movistar+ (Spain).
Art documentary Maurizio Cattelan: Be Right Back has gone to VPRO (The Netherlands), SVT (Sweden), Channel 8 (Israel), Movistar+ (Spain), Feltrinelli/ Nexo (Italy, all rights).
Ashish Ghadiali's BBC, BFI co-production The Confession has sold to Al Jazeera, Globosat (Brazil) and DR (Denmark) and The WHY Foundation.
Dogwoof has also scored further deals on Maya Zinshtein's BBC-backed Israeli football doc Forever Pure with VRT (Belgium) and BBC Persia (MENA).
Reiner Holzemer's Dries, which world premiered at CPH:DOX, has gone to Channel 8 (Israel), and Movistar + (Spain).
Oscar-winning documentary filmmaker Eva Orner's Chasing Asylum has sold to Al Jazeera and TV3 (Spain).
Harlots heads to Canada
ITV Encore's eight-part brothel drama Harlots has been sold to Canadian pay-TV broadcaster Super Channel.
The series, a co-production with US SVoD service Hulu, will air in Canada from May.