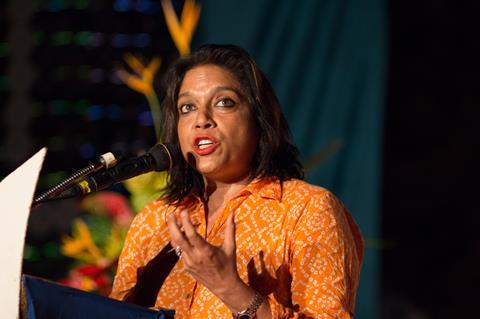 Indian filmmaker Mira Nair, who is in Cannes this year as the patron of the Institut Français La Fabrique Cinéma initiative, will start shooting her long-gestated adaptation of Vikram Seth's bestselling novel A Suitable Boy this September having got the green-light on production as she flew out to France.
"I love this book so much. Andrew Davies has delivered a wonderful script. We've been working on this for a year and got the formal green-light yesterday. We're deep in it. We've cast the most amazing 110 extraordinary actors in India. I like to say, 'It's crown and brown'. It's not been easy. It's the first South-Asian epic on mainstream BBC television," Nair told Screen at a La Fabrique Cinéma reception.
She said the six-hour $20m series - set against the backdrop of post-Colonial India on the eve of landmark elections, will start shooting September 2 for 16 weeks on location across northern Indian.
Casting is still underway but Nair confirmed the participation of long-time collaborators Tabu, who was in her 2006 drama The Namesake and Life of Pi, and Monsoon Wedding star Naseeruddin Shah in major roles.
"The role of the young girl at the heart of the story will be played by a major Indian movie star but I can't reveal her identity right now," said Nair.
The BBC is the key backer on the project with a major streaming platform currently circling the production, which
Other major projects on the horizon, she said, was a stage musical adaptation of 2001 hit Monsoon Wedding, which will open for an initial eight-week season at the Roundhouse in London on August 1 2020.
This year's Institut Français La Fabrique Cinéma initiative is supporting 10 fiction and documentary feature projects from fragile filmmaking territories around the world this year, including Rwandan Kantarama Gahigiri's Nairobi-set sci-fi drama Tanzanite and Tunisian director Mehdi Hmili's documentary Fouledh about the psychological impact of a factory accident on workers.