Lionsgate's adaptation records biggest opening of 2014 to date with confirmed $19.8m (£12.65m), including previews.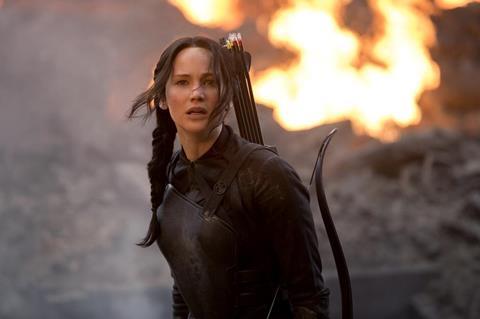 Having recorded the seventh biggest Thursday opening of all time, The Hunger Games: Mockingjay Part 1 has gone on to record the biggest debut of the year at the UK box office.
Lionsgate's adaptation flew to a confirmed $19.8m (£12.65m) from its 565 sites (the distributor's widest ever release), including $3.7m (£2.34m) taken on Thursday [Nov 20], surpassing The Inbetweeners 2's $19.6m (£12.54m) bow from 509 sites.
Discounting previews, Mockingjay also recorded the biggest Fri-Sun tally of 2014 with a stunning $16.1m (£10.3m), over £2m ahead of the year's previous best which also belonged to The Inbetweeners 2's $12.6m (£8.05m).
Mockingjay achieved the highest opening of the series to date, topping The Hunger Games: Catching Fire's $19.1m (£12.2m) from 554 sites in November 2013, which included $3.2m (£2.07m) in previews.
Catching Fire went on to take $53.5m (£34.2m) in the UK and if Mockingjay betters Catching Fire's second week holdover, where it dropped 54% excluding previews, then it will be in a great position to become the series' strongest performer.
The first overall target though will be The Hunger Games' $37.5m (£24m) UK result from March 2012.
STUDIOCANAL
The Imitation Game enjoyed a superb second weekend at the UK box office, falling just over 20% for $3.3m (£2.12m) as it remained in second.
StudioCanal's drama is now up to a healthy $10.6m (£6.75m), having added almost $3.1m (£2m) during Mon-Thurs of its first week. This coming week should also see it prosper as counter-programming to the likes of Mockingjay Part 1, with a possibility of it hitting £10m by the end of this coming weekend.
WARNER BROS
Dropping 50% in its third weekend with the arrival of Mockingjay Part 1, Interstellar fell to third with $3m (£1.9m).
Warner Bros' sci-fi has now amassed $24.9m (£15.9m) in the UK and will shortly overtake Batman Begins' $25.7m (£16.42m) to become Christopher Nolan's fourth-best UK performer of all time.
Inception had already hit £20m by the same stage in its run so its final tally of $56.1m (£35.81m) will prove a step too far for Interstellar, but it still has an outside shot at £25m if it manages to level off this coming weekend.
EONE
Falling just 14% in its second weekend, eOne's Nativity 3: Dude, Where's My Donkey?! added $2.4m (£1.5m) for $5.7m (£3.6m). The comedy threequel is taken the majority of its gross over Sat-Sun, and faces stiff competition this coming weekend with the arrival of Paddington.
Also for eOne, Mr. Turner rounded off this week's top five with $553,000 (£353,082) after its first big drop of 53% in its fourth weekend. Mike Leigh's biopic is now up to an excellent $8.5m (£5.4m).
Nightcrawler is up to $4.7m (£3m) after four weeks in play, while The Homesman could only manage a $97,000 (£62,118) UK bow from its 63 sites - a debut lower than that of Tommy Lee Jones' directorial debut, The Three Burials of Melquiades Estrada, which opened with $129,000 (£82,586) from 29 sites.
FOX
With a respectable 27% drop in its fifth weekend, Fox's The Book of Life grossed an additional $466,000 (£296,943) for a sturdy $9m (£5.7m) to date.
Also for Fox, The Drop fell over 50% in its second weekend to add $360,000 (£229,496) for a ten-day tally of $2m (£1.3m), while Gone Girl reached $34.43m (£21.94m) with a $271,000 (£172,705) weekend.
In the quest to be the UK's highest grossing 18-rated film of all time, The Wolf of Wall Street has edged ahead of Gone Girl with $34.47m (£21.97m) at the same stage in its run.
PARAMOUNT
Now in its sixth week, Paramount's reboot Teenage Mutant Ninja Turtles took a further $280,000 (£179,000) for $21.5m (£13.8m) to date.
METRODOME
What We Do in the Shadows recorded a terrific UK debut of $200,000 (£127,765) from its 33 sites through Metrodome, including $98,000 (£62,849) in previews. Strong word-of-mouth and critical acclaim could see the vampire mockumentary enjoy a lengthy run.
UNIVERSAL
Get On Up is unlikely to feel good about its UK bow having taken just $172,000 (£110,000) at a soft average of $759 (£484) per-site. Even discounting previews, that's considerably less than the $980,000 (£625,261) opening from 294 sites of Tate Taylor's previous UK outing, The Help.
Also for Universal, Ouija and The Boxtrolls have grossed $5.3m (£3.4m) and $13.4m (£8.6m), respectively.
CURZON FILM WORLD / ARTIFICIAL EYE
Israel Horovitz's feature directorial debut My Old Lady got off to a solid start in the UK with a $170,000 (£108,611) bow from its 87 sites through Curzon Film World.
Meanwhile, Artificial Eye's release of Russia's official Foreign Language submission Leviathan has grossed $200,000 (£127,769) after a $25,000 (£16,020) third weekend from its eight sites.
SONY
Fury has rolled past the £8m mark in the UK, adding $141,000 (£90,000) for $12.7m (£8.1m) through Sony.
Also for Sony, No Good Deed failed to repeat its chart-topping US heroics as it posted a UK debut of $64,000 (£41,000) from its 99 sites.
DISNEY
Alexander and the Terrible, Horrible, No Good, Very Bad Day has now taken $4.9m (£3.14m) following a $110,000 (£70,000) weekend through Disney.
Also for Disney, Frozen is being re-released in cinemas from today [Nov 24] following its sing-along screenings at London's Royal Albert Hall last week.
NEW WAVE FILMS
Nuri Bilge Ceylan's Palme d'Or winner Winter Sleep posted a $32,000 (£20,341) from its 15 sites through New Wave Films. That's down on the $55,000 (£35,117) bow of Once Upon A Time in Anatolia, also from 14 sites.
KOCH MEDIA
Following its strong opening last week, Koch Media's Redirected enjoyed a $14,000 (£8,688) second weekend from its four sites for $105,000 (£67,328) so far.
UPCOMING RELEASES
This week sees saturation releases for StudioCanal's Paddington and Warner Bros' Horrible Bosses 2.
BFI's re-release of 2001: A Space Odyssey, Universal's I Am Ali and Alchemy Releasing's Kajaki: The True Story all receive wide releases, while Arrow Films' Stations of the Cross and Dogwoof's Concerning Violence are among the films receiving a limited release.