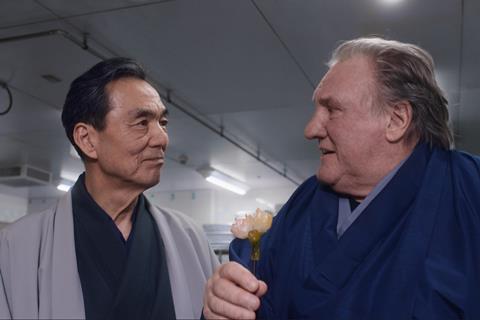 Paris-based sales company MPM Premium has signed a fresh raft of deals on French-Japanese culinary comedy Umami, following its physical market premiere in Cannes.
The film stars Gérard Depardieu as a chef on a mission to create a dish encapsulating the taste of umami, the so-called fifth taste after salty, sweet, sour and bitter that is common in Japanese cuisine.
It has now sold to Switzerland (Praesens), Baltics (Otaku) and airlines (Encore). Previously announced sales include to Germany and Austria (Neue Visionen), Israel (New Cinema), Dutch-speaking Benelux (J&J Films) and Spain (Vercine).
It is the second feature from French director Slony Sow, who previously collaborated with Depardieu on short films Winter Frog and Crystal Frog, following the ups and downs of a French winemaker
Alongside Depardieu, the cast also features France's Sandrine Bonnaire and Pierre Richard as well as Japanese pop star and actress Kyōko Koizumi, actress Eriko Takeda and veteran actors Kyôzô Nagatsuka and Akira Emoto.
MPM is planning a physical market screening in Tokyo on June 1 for Japanese buyers.
In other sales news, the company has also unveiled deals on Iranian director Ali Asgari's Berlinale Panorama title Until Tomorrow to France (Bodega), Switzerland (Xenix) (Switzerland) and Poland (Ale Kino+).