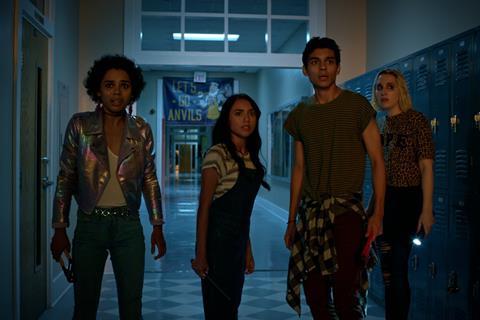 Heading into the virtual AFM Los Angeles-based Motion Picture Exchange (MPX) has closed slate deals with multiple international distribution partners.
MPX, led by CEO James Andrew Felts, has closed a 10-film slate deal with South Korea's Andamiro including Josh Webber's Mafia documentary American Rackets.
A six-film deal in Australia and New Zealand with Pinnacle includes horror-thriller Student Body (pictured) starring Harley Quinn Smith. Pinnacle acquisitions manager Philip White said, "The distribution landscape is evolving quickly and so is our approach to acquisitions. MPX provides the right mix of quality product with an openness to exploring new methods of bringing that product to market that has been a major factor in helping us to achieve our goals."
In other pre-AFM deals MPX has struck a three-film deal with Lighthouse for Germany led by thriller You Might Get Lost; a six-film package with CCE in Taiwan that encompasses Transference: Dark Mutants; 10 films including Undertow to Evrit in Poland; a package of 10 including thriller Wired Shut to Lion Media Distribution in Russia; and eight titles including music drama Electric Jesus starring Judd Nelson to Encripta for all Latin America.
"After almost two years of Covid lockdowns, entertainment consumption is at an all-time high," said Ryan Bury, SVP of sales and acquisitions at MPX. "Building visibility around independent films, while navigating the supply increase of original productions from streaming companies requires strong business fundamentals and a steady hand.
"Our core mission at MPX is to align with strong partners internationally and enable them to generate returns for our clients via smart deal structures," added Bury.
Among MPX's credits are underdog drama Percy vs Goliath starring Christopher Walken, Zach Braff and Christina Ricci, and Aftermath with Ashley Greene and Sean Ashmore and as a partner company on the comedy Big Gold Brick starring Andy Garcia with Arclight Films.