Universal's big screen adaptation of TV sitcom adds $3.7m (£2.2m) to record second week as the UK's number one; Paramount's Transformers: Age of Extinction previews strongly.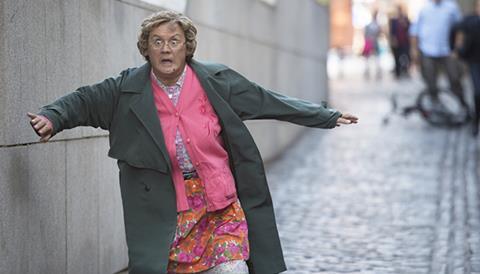 With Transformers: Age of Extinction not being officially reported until next week's chart, Mrs. Brown's Boys D'Movie has retained top spot at the UK box office for the second straight week.
Universal's big screen outing for the popular TV sitcom enjoyed a second weekend take of $3.7m (£2.2m) for an excellent ten-day total of $15.9m (£9.3m).
In terms of TV-to-film outings, that means it has already surpassed the $10.7m (£6.22m) lifetime total of Alan Partridge: Alpha Papa.
The official arrival of Transformers: Age of Extinction and the nationwide expansion of How to Train Your Dragon 2 will prevent the comedy from a third straight week as the UK's number one, but it could still hold well as counter-programming to the blockbusters.
PARAMOUNT
As with Bad Neighbours in May, Transformers: Age of Extinction will contain previews from July 5-10 in its official opening weekend on July 11-13.
Paramount's latest installment from the popular franchise is off to a strong start having grossed a non-final $8m (£4.7m) on Sat-Sun, a figure that incidentally would have seen it top the chart this weekend.
It's all-but guaranteed to record the biggest opening of 2014 to date next weekend, surpassing X-Men: Days of Future Past's $15.6m (£9.13m) debut.
FOX
With its full nationwide release to come on Friday, How to Train Your Dragon 2 banked $4.4m (£2.6m) on Fri-Sun from its Scotland and Ireland full release and nationwide previews in England and Wales.
Fox's animated sequel has flown to $10m (£5.8m) overall in the UK and Ireland to date, a chunk of which will be added to next weekend from its extensive previews in England and Wales over the past few weeks.
Also for Fox, The Fault in Our Stars continued its healthy UK run with a third weekend of $1.6m (£951,231) for a running tally of $14.7m (£8.6m).
X-Men: Days of Future Past and Belle have amassed $46m (£26.9m) and $2.7m (£1.6m), respectively.
WARNER BROS
The week's highest new entry came in the form of Tammy, which landed with a $799,000 (£466,000) UK bow from its 339 sites through Warner Bros.
That's down on the openings of Identity Thief and The Heat, but direct comparisons are unfair given that it's the first solo lead for Melissa McCarthy.
Also for Warner Bros, Edge of Tomorrow fought its way to a further $195,000 (£114,000) for $13m (£7.6m) to date, while Jersey Boys has grossed $2.2m (£1.3m) after three weeks in play.
SONY
22 Jump Street is now the highest grossing comedy of the year at the UK box office. Sony's comedy sequel fell a respectable 45% in its fifth weekend to add $1.1m (£660,000) for a terrific $28.4m (£16.55m) to date.
DISNEY
Dropping just 45% in its sixth weekend despite family competition from How to Train Your Dragon 2, Disney's Maleficent conjured up an additional $769,000 (£449,000) for an excellent $29.8m (£17.36m).
LIONSGATE
In its second weekend of release, Lionsgate's Chef cooked up $329,000 (£192,590) to hit the £1m mark and stand at $1.9m (£1.1m).
VERTIGO FILMS
Walking on Sunshine recorded a second weekend of $275,000 (£160,218) from its 348 sites through Vertigo. The home-grown musical has sung its way to $1.5m (£890,604) after ten days in play.
STUDIOCANAL
Released in 86 sites through StudioCanal, The 100-Year-Old Man Who Climbed Out The Window And Disappeared scored a $175,980 (£102,570) UK bow. The adaptation of the popular Swedish novel should see decent midweek returns given its target audience.
ICON FILM DISTRIBUTION
Currently playing in 109 sites, Jim Mickle's well-received Cold in July posted a second weekend of $93,000 (£54,493) through Icon Film Distribution for a ten-day tally of $531,000 (£309,863).
METRODOME
Noel Clarke's sci-fi The Anomaly managed a $30,000 (£17,712) UK debut, including previews from its 68 sites through Metrodome. That's significantly down on Clarke's previous directorial outings, both of which did receive much wider releases though.
Also for Metrodome, the re-release of A Hard Day's Night grossed $17,000 (£9,935) from its nine sites, while Goddess could only manage $221 (£129) from its four sites.
ARTIFICIAL EYE
The timely release of Cycling with Molière recorded a $21,000 (£12,305) UK bow from its 20 sites through Artificial Eye.
UPCOMING RELEASES
This week sees saturation releases for Paramount's Transformers: Age of Extinction (out now), Universal's Boyhood and eOne's Begin Again. Fox's How to Train Your Dragon 2 opens in England and Wales.
Arrow Film's Mr. Morgan's Last Love expands to the UK, while Verve Pictures' Love Me Till Monday and Axiom Films' Goltzius and the Pelican Company are among the films receiving a limited release.