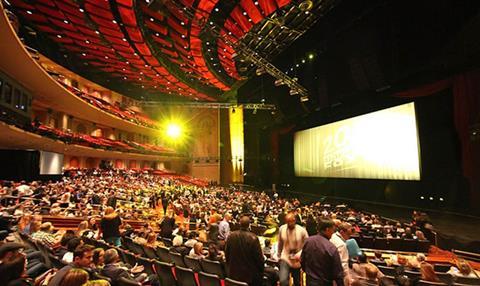 Digital content distribution and content protection company Nagra will attend CinemaCon later this month to introduce myCinema.
The data-driven service will stream live and alternative content via secure protocol to theatres based on audience demand within a locale.
Cannes Film Festival president Pierre Lescure, who sits on the board of NAGRA parent Kudelski Group, said the service could become, "the big opportunity for cinemas, the response to the rise of digital platforms for home entertainment."
myCinema top brass are targeting a launch in the second half of 2018. A number of exhibition partners are understood to have committed to the initiative and will participate in revenue share decided on a case-by-case basis.
Head of exhibitor and entertainment industry relations Tim Warner Jr declined to name the exhibitors at this stage. Screen understands myCinema will begin beta testing soon.
"myCinema will drive the digital transformation of the cinema experience," said André Kudelski, board chairman and CEO of Kudelski Group. "By connecting movie theatre screens, myCinema brings the agility of the internet age to cinemas. This means that an unprecedented choice of content can reach any screen at any time at a very competitive distribution cost."
"The movie theatre, the true and premier place for watching movies, will now welcome – with myCinema – all forms of content, entertainment and more," Cannes Film Festival president and Kudelski Group board member Pierre Lescure added. "This may be the big opportunity for cinemas, the response to the rise of digital platforms for home entertainment.
"As the president of the Cannes Film Festival, I will follow this project of the Kudelski Group with great interest as it starts its first distribution in North America. This is an exciting development for the cinema industry."
"We are partnering with theatre owners that are looking forward to growing their audience and maximising venue utilisation," Kudelski said. "As an internet platform, myCinema enables diversified and flexible programming. Thanks to its AI-based analytics, myCinema identifies the unique fandoms active in a cinema's local community and recommends targeted content choices.
Kudelski added that the service features an app-based loyalty programme tailored to local theatres that allows consumers to demand the content they want to watch.
Team members include: mobile, broadcast and streaming expert and NAGRA executive Jean-Luc Jezouin; strategy and solutions optimised streaming media expert, NAGRA board member Glenn Morten; content acquisition specialist Bruce Eisen; live streaming expert Darcy Lorincz; music and arts programmer Reza Ackbaraly; Clearplay CEO and faith and family content producer Matt Jarman; and Latino music and film content marketing and business development executive Felix Garcia.