The Birth Of A Nation star has spoken out about a rape claim of which he was cleared 15 years ago as he and Fox Searchlight moved decisively to keep the awards season hopeful on track.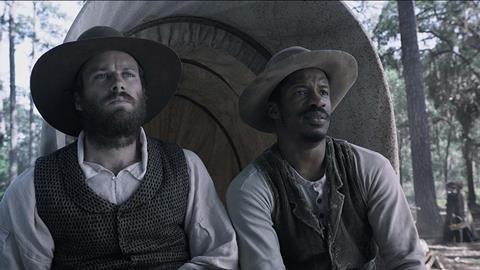 Nate Parker was acquitted by a court in 2001, two years after a woman alleged that he and Jean McGianni Celestin, his then Penn State roommate who earned a story credit on The Birth Of A Nation, raped her while she was unconscious.
The issue has been a matter of public record for years and appears in a citation on Parker's Wikipedia page following a 2007 interview he gave to The Virginian-Pilot.

However when it resurfaced Searchlight and Parker decided to face the matter head-on in an interview with Deadline Hollywood that ran on Friday.
"Searchlight is aware of the incident that occurred while Nate Parker was at Penn State," the studio said in a statement. "We also know that he was found innocent and cleared of all charges. We stand behind Nate and are proud to help bring this important and powerful story to the screen."
"I was sure it would come up," Parker told the outlet. "It is there, on my Wikipedia page, the Virginia Pilot … I stand here, a 36-year-old man, 17 years removed from one of the most painful moments in my life.
"And I can imagine it was painful, for everyone. I was cleared of everything, of all charges. I've done a lot of living, and raised a lot of children. I've got five daughters and a lovely wife. My mom lives here with me; I brought her here. I've got four younger sisters."
He continued: "Women have been such an important part of my life. I try, every day, to be a better father to my daughters, and a better husband.
"The reality is, this is a serious issue, a very serious issue, and the fact that there is a dialogue going on right now around the country is paramount. It is critical. The fact we are making moves and taking action to protect women on campuses and off campuses, and educating men and persecuting them when things come up… I want women to stand up, to speak out when they feel violated, in every degree, as I prepare to take my own daughter to college."
Celestin's conviction of charges was overturned and prosecutors subsequently dropped plans for a retrial.
The Birth Of A Nation charts the bloody 1831 Virginia slave revolt led by Nat Turner and is on course to be a heavyweight awards contender during a season when the matter of diversity will be writ large given the #Oscarssowhite furore sparked by the Oscar nominations at the start of the year.
Searchlight intends to remain a vocal champion of the film in the coming months and executives are orchestrating what is expected to be a powerful campaign as they work to alleviate any negative association that may arise from Friday's developments.
The Birth Of A Nation will receive its international premiere at the Toronto International Film Festival next month and was the sensation of the Sundance Film Festival back in January.
The world premiere in Park City triggered a feeding frenzy from buyers before Searchlight prevailed with a $17.5m worldwide deal. The film rounded out a triumphant festival by claiming both the dramatic grand jury and audience award prizes.
Last week Parker received the Vanguard leadership award from the Sundance Institute at a ceremony in Los Angeles, when he launched a fellowship for young film-makers in the Sundance Ignite programme.