Echo of the Mountain also scoops a top prize at the film festival in Mexico.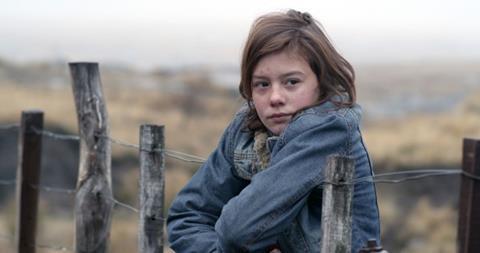 Scroll down for full list of winners
Matias Lucchesi's debut feature Natural Sciences (Ciencias naturales) scooped a top prize, the Golden Mayahuel and €14,700 ($20,000) in cash, in the Ibero-American competition of the 29th Guadalajara Film Festival (FICG), March 21-30.
The Argentinian production follows an adolescent girl's quest to reconnect with her estranged father and was launched last month at the Berlin International Film Festival, where it won the Generation Kplus Grand Prix.
Sold by Urban Distribution, it beat competition from 18 other titles to take the top prize and also received the best screenplay award and the Feisal (Latin American Film Schools) trophy.
Lead stars Paula Herzog and Paola Barrientos shared the best actress prize.
Echo of the Mountain (Eco de la Montana), a documentary directed by veteran Nicolas Echevarria, won the prize for best Mexican film, which included a cash award of € 29,400 ($40,000). It marks the first time a documentary has won the Mezcal Prize.
It also won the documentary jury special prize, worth €5,900 ($8,000), and the Warrior press prize for best documentary.
The film, sold by the Echevarria's production outfit Cuadro Negro, is a portrait of the great Wixarika (Huichol) artist Santos de la Torre who lives in near anonymity in the Western Sierra Madre.
Brazilian feature The Man of the Crowd (O Homem das Multidoes) won the special jury prize in the Ibero-American competition and €7,300 ($10,000).
The film, co-directed by Marcelo Gomes and Cao Guimaraes, reflects on different forms of loneliness and friendship in urban Brazil. It also received the best cinematography award for director of photography Ivo Lopes Araujo.
Another Brazilian production, A Wolf at the Door (O lobo atras da porta) received the best director award and €8,800 ($12,000) for debutant filmmaker Fernando Coimbra.
The best first film prize, worth €7,500 ($10,000) went to Mexican-US-German co-production Los Angeles directed by Damian John Harper, which launched earlier this year in the Forum section of the Berlinale.
Chilean production The Last Station (La ultima estacion), directed by Catalina Vergara and Christian Soto, was named best Ibero-American documentary, receiving €8,800 ($12,000).
Gustavo Sanchez Parra was named best actor for his role in Mexican production Perpetual Sadness (La tirisia), directed by Jorge Perez Solorzano.
The audience award, worth €5,900 ($8,000) went to Brazilian feature The Way He Looks (Hoje eu quero voltar sozinho) by first timer Daniel Ribeiro, produced by Ribero and Diana Almeida.
The film, sold worldwide by Films Boutique, was the recipient of the Teddy award at this year's Berlinale.
The Fipresci prize went to Mexican director Catalina Aguilera Mastretta for her debut feature The Hours With You (Las horas contigo).
The Ibero-American feature jury comprised Denise Robert, Emilio Kauderer, Nailea Norvind, Pablo Giorgelli and Ray Loriga.
The Ibero-American documentary jury included Ana Vinuela, Daniela Alatorre, Ignacio Aguero, Roxanne Sayegh and Yvonne Ruocco.
A total of €340,000 ($470,000) was handed out across the five competition sections and two industry strands: the 10th Ibero-American Coproduction Meeting and the 8th Guadalajara Construye-Films in Progress.
Ibero-American Coproduction Meeting
A total of 26 projects in development, selected from over 230 applicants, were pitched to international film executives at the 10th Ibero-American Coproduction Meeting.
The winning projects were:
Operation: Baby (Operación: Baby)
Dir: Jose Luis Valle (Mexico)
Producers: Valle, Sandra Solares (Caverna Cine, Mexico).
The project had been selected last year in the Berlin Residency programme. The award consisted of services up to €84,000 ($115,000) offered by the Mexican Estudios Churubusco Azteca.
Gunpowder (Polvora en el corazon)
Dir: Camila Urruti (Guatemala)
Producer: Ines Nofuentes (Camaleon Films, Guatemala).
The award offers services in kind up to €20,000 ($28,000) by the Mexican LCI Insurance House.
The Winter (El invierno)
Dir: Emiliano Torres (Argentina)
Producer: Ezequiel Borovinsky (Wanka, Argentina).
The award offers services in kind worth €33,500 ($46,000) by the New Art Mexican post-production house.
Films in Progress
In the post-production oriented Guadalajara Construye strand, six films were selected from101 applicants.
The winning film was Argentina's The Boss (El Patron) by first time director Sebastian Schindel, produced by Nicolas Batlle (Magoya Films). The film garnered five awards worth a total of €50,550 ($70,000).
Coming second with three awards, worth €37,750 ($52,000) was Brazilian production Bring it Inside (Trago comigo) directed by Tata Amaral, produced by Caru Alves de Souza (Tangerina Enrtetenimento).
Third, with one award and €18,200 ($25,000), was Chilean production The Woman of the Cape (La mujer de la esclavina) by Alfonso Gazitua, produced by Roberto Paulsen (Aramara Films).
Fourth, with €16,000 ($22,000) from two awards, was Argentinian production The Kid (El Guri) by Sergio Maza, produced by Paula Mastellone (Masa Latina SRL).
Offering the awards in cash were sponsors HBO Latin America,Titra California, Boogieman Media, Color Space, Fix Comunicacion, Labo Digital, Chemistry Cine, Estudios Churubusco Azteca and Habanero Distribucion.
Co-pro deals
Estrella Araiza, the new Industry head, formerly with Latinofusion Distribucion, told ScreenDaily a number of co-production deals were inked here in Guadalajara.
These included the Mexican, Colombian, Quebec co-production X Quinientos to be produced by Eder Campos and Luis Salinas (Machette Producciones-Mexico), Juan Andres Arango and Jorge Botero (Colombia) and Yanick Letourneur (Peripheria/Septima Films-Canada).
Also in co-production with Quebec producer Andrew Noble is the new project from Jorge Michel Grau, the Mexican director behind We Are what We Are (Somos lo que hay).
New this year was the Industry Galas section. Among the five titles selected was Witching and Bitching (Brujas de Zugarramurdi) from genre director Alex de la Iglesia.
Plans for next year include the Principio del Film section bringing together literary sales agents and film producers, co-organized with Ventana Sur and the Guadalajara International Book Fare (FIL).
The Berlin- backed Talents Guadalajara and Doculab Guadalajara , coordinated by Ana de la Rosa Zamboni and Lorena Rossette, celebrated their sixth editions.
The rising talent schemes featured 70 Latin American film students and emerging filmmakers tutored by 64 experts from around the world.
Tributes
The festival paid tribute to Jim Sheridan, the Irish director of My Left Foot and In the Name of the Father, who received the honorary International Golden Mayahuel.
Other tributes were paid to Mexican actresses Elpidia Carillo and Maria Victoria Cervantes as well as maverick Canadian film director Denis Cote.
Cote, director of Silver Bear winner Vic + Flo Saw a Bear, formed part of the Quebec delegation that paid homage to films from the French-Canadian region.
Sheridan and Cote also delivered masterclasses at Talents Guadalajara alongside Canadian director Bruce La Bruce, Mexican filmmaker Amat Escalante, Argentinian director Jeanine Meerapfel .
Other masterclasses were offered by Dean Cundey, the veteran cinematographer behind modern classics including Back to the Future, Jurassic Park and Apollo 13, and Mexican cinematographer Gabriel Beristain, DoP on Blade II among others.
Admissions up
Guadalajara Film Festival boosted attendance to 111,000 admissions – up from 104,000 in 2013.
The industry strand also grew its numbers, attracting 763 delegates, up from 549 last year.
The festival will celebrate its 30th anniversary next year and faces a number of challenges, chief among them reinforcing the presence of Mexican productions at the festival, facing off stiff competition from other local events such as Guanajuato and Morelia. The probable change of the festival headquarters and operation centre could pose further challenges.
The Italian film industry will be the guest of honour in 2015, when the festival will run from March 6-14.
2014 GUADALAJARA FESTIVAL AWARDS
MEZCAL PRIZE, BEST MEXICAN PICTURE
Echo of the Mountain (Nicolas Echeverria)
BEST IBERO-AMERICAN PICTURE
Natural Sciences (Mattias Lucchesi, Argentina)
DIRECTOR
Fernando Coimbra ("A Wolf at the Door," Brazil)
SPECIAL JURY PRIZE, IBERO-AMERICAN FICTION FEATURE
The Man of the Crowd (Marcelo Gomes, Cao Guimaraes, Brazil)
AUDIENCE AWARD, BEST IBERO-AMERICAN FICTION FEATURE
The Way He Looks (Daniel Ribeiro, Brazil)
BEST FIRST FILM
Los Angeles (Damian John Harper, Mexico, Germany)
ACTOR
Gustavo Sanchez Parra ("La tirisia, Mexico")
ACTRESS
Paula Hertzog, Paola Barrientos ("Natural Sciences," Argentina, France)
SCREENPLAY
Matias Lucchesi, Gonzalo Salaya ("Natural Sciences")
BEST IBERO-AMERICAN DOCUMENTARY
La ultima estacion (Catalina Vergara, Cristian Solo, Chile)
DOCUMENTARY JURY SPECIAL PRIZE
Echo of the Mountain
UNOFFICIAL AWARDS
COSTUMN DESIGN
Gabriela Fernandez ("Cantinflas," Mexico)
WARRIOR PRIZE. DOCUMENTARY
Echo of the Mountain
PRESS WARRIOR PRIZE, FICTION FEATURE
Open Cage (Maz Zunino, Mexico)
FEISAL PRIZE
Natural Sciences Matias Lucchesi (Argentina, France)
FIPRESCI
The Hours With You (Catalina Aguilar Mastretta, "Mexico)
FUTURE AUDIENCES
Rodencia and the Princess (David Bisbano Argentina, Peru)