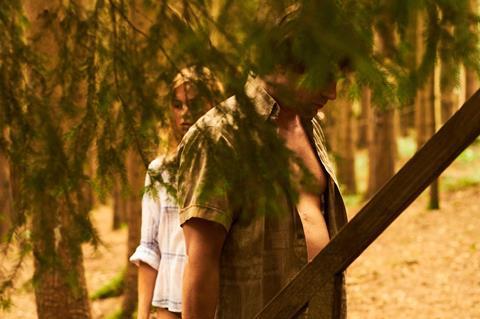 The word on everyone's lips at this year's Connext, the industry event organised by Flanders Image, was, "What will be the next Girl?"
Last year, Lukas Dhont's transgender story was presented as a Work In Progress at Connext and is now one of the most lauded films of 2018, winning the Camera d'Or at Cannes and now representing Belgium in the foreign-language Oscar race.
It's wildly different than Girl, but the buzziest project from 2018's Works in Progress was Patrick, from Bullhead production company Savage Film and marking the first feature film by Tim Mielants, who has worked on TV series such as Peaky Blinders and The Terror.
Patrick won the Pitch Award at Connext 2017 and has today won the Flow Work In Progress Award, worth $11,500 in services and $5,800 in advertising.
An industry jury headed by Toronto director of programming Kerri Craddock praised "its exploration of original, yet universal themes, its arresting and captivating imagery, what we think will be both poetic and thrilling storytelling."
The visually striking footage revealed this year impressed buyers and festival programmers, showing that the naturist campsite setting wasn't just played for laughs.
Kevin Janssens (The Ardennes) stars as the titular Patrick, who works as a craftsman at his father's naturist campsite; after his father's death he has an existential quest to find a missing hammer. The cast also includes Flight Of The Conchords star Jemaine Clement.
The jury gave a special mention to Frederike Migom's multicultural family film Binti, which the jury said had "timely subject matter – in terms of its relatability to young vloggers everywhere and the importance of tolerance in today's multicultural societies – and its realistic, yet hopeful approach for young people".
Another hot project, perhaps a tougher sell commercially but ripe for festivals and brave distributors, was Tench, Patrice Toye's portrait of a young man battling pedophilic thoughts.
Festival favourite director Gust van den Berghe's travelling circus story Rain Anyway also impressed the industry audience.
Attendees were also struck by the ambitious production values of U-boat adventure story Torpedo.
Buyers and programmers also remarked about the "smart and funny" female protagonist in The Best Of Dorien B, the debut feature of Anke Blonde. Another strong female-centric story presented was Eva Cools' Cleo, about a teenage girl recovering from tragedy.
Among the projects at pitch stage, the winner of the Lites Perfect Pitch Award – also worth $11,500 in services and $5,800 in advertising – was cycling drama Six Days, to be directed by Eric Wirix and Frank Van Mechelen. The jury praised "its clarity of vision, both from a technical filmmaking and storytelling perspective, for Wirix's articulate and dynamic presentation, and for getting us all exciting about velodrome racing."
Connext 2018 Works In Progress
All Of Us, dir/prod Willem Wallyn of W2 (Bel)
Drama shooting now, about a self-help group of terminally ill patients.
The Barefoot Emperor, dirs/prods Peter Brosens and Jessica Woodwarth, prod Maarten D'Hollander of Bo Films (Bel-Neth-Cro-Bul)
This sequel to King Of The Belgians is shooting now in Croatia, a comedy-drama about the rise of nationalism. International members of the cast include Geraldine Chaplin and Udo Kier. Be For Films handles sales.
The Best Of Dorien B, dir Anké Blonde, prod Dries Phlypo of A Private View (Bel-Neth)
The comedy/drama is about a 37-year-old woman who rediscovers herself when her life starts to fall apart. Blonde said, "She rebels against her seemingly picture-perfect life and risks everything to become the woman she has always wanted to be." Performance artist Kim Snauwaert takes the title role. This film, previously titled Floating, is sold by Be For Film.
Binti, dir Frederike Migom, prod Katleen Goossens of Bulletproof Cupid (Bel-Neth)
Family film about a girl of Congolese heritage who tries to marry off her father to a Belgian woman so they don't have to leave the country. LevelK is circling sales.
Birdsong, dir Hendrik Willemyns, prod Hans Everaert of Menuetto Film (Bel-Jap)
Willemyns, from the band Arsenal, directs this Japan-set story of a young Japanese mother who dreams of being a musician.
Cleo, dir Eva Cools, prod Annemie Degryse
 of Lunanime (Bel)
Drama about a 17-year-old girl who survives a traumatic car crash and is helped by music in her healing process. Be For Films handles sales.
Patrick, dir Tim Mielants, prod Bart Van Langendonck of Savage Film (Bel-Neth)
Drama/comedy about a man working at his fathers's naturist campsite. Kevin Janssens (The Ardennes) leads the cast, which also features Jemaine Clement from The Flight Of The Conchords. Mielants' TV credits include The Terror, Peaky Blinders and The Tunnel. Beta Cinema handles sales.
Rain Anyway, dir Gust van den Berghe, prod Tomas Leyers of Minds Meet (Bel-Neth-Lux)
A man joins a travelling circus and falls in love with the circus owner's daughter. Van den Berghe's credits include Lucifer, Baby Bird and Little Baby Jesus Of Fland. Philippe Bober's Coproduction Office handles sales.
Sinner, wr/dir Emilie Verhamme, prod Bea Catteeuw of Holden Wallace (Bel)
Maaike Cafmeyer plays Marie Killer, a woman dealing with unrequited love.
Tench, dir Patrice Toye, prod Antonino Lombardo of Prime Time (Bel-Neth)
A young man returns from prison to his small village, where he struggles with his desires for his 10-year-old neighbour.
Torpedo, dir Sven Huybrechts, prod Hendrik Verthé of A Team (Bel-Neth-Malta)
During the Second World War, a gang of rebels has to take a stolen German U-Boat with dangerous cargo to the US. Atlas International handles sales.
Urbanus, Cash For Trash, dirs Joost Van den Bosch and Erik Verkerk, prod Peter Bouckaert of Eyeworks (Bel-Neth)
Animated adaptation of comedian Urbanus' comic books, about the town of Tollembeek, when the kids take charge.
CONNeXT is organised by Flanders Image, a division of the Flanders Audiovisual Fund (VAF), in association with Lites, Flow Postproduction, Film Fest Gent, Omnia Travel, Pillows Hotels, and media partners Le Film Français and Screen International.